Add this event to Outlook or Apple Calendar
Add this event to Google calendar
The National Festival of Breads will be held on June 8, 2019 at the Hilton Garden Inn in Manhattan, Kansas
It's Free!
In lieu of an entry fee, we ask that you bring a non-perishable food item to support local food pantries.
Doors open at 8:30 a.m.
8:45 a.m.: Welcome & Introductions
Welcome from Manhattan Convention & Visitors Bureau
Introductions & Announcements by Eric Atkinson, Emcee, Radio Specialist and Agriculture Director, K-State Radio Network
9:00 a.m. - 2:30 p.m. Baking Demonstrations
9:00 a.m.: "A baking experience with Platinum Yeast: Making a milk bread yeast dough"
Brian Hart Hoffman, President and Chief Creative Officer of Hoffman Media, LLC, and Editor-in-Chief of Bake from Scratch. Sponsored by Red Star Yeast.
10:00 a.m.: "Basic Bread Tips: Mom's Five-Day Bread and Old Fashioned Peasant's Rye Bread"
11:00 a.m.: "Baking with Young Families" Farm to kitchen….Learn how soy adds nutritional benefits to recipes with three generations of bakers!
Charlene Patton, Kansas Soybean Spokesperson assisted by her daughters Jana, Krista, Megan and Lori. Sponsored by Kansas Soybean Commission.
Noon: "Braiding Breads and Decorative Bread Slashing: Four-Strand Loaf, Six-Strand Loaf and Thirty-Two Strand Loaf, Loaf & Roll-Molding Tips"  
1:00 p.m.: "A baking experience with Platinum Yeast: Milk Bread Dough 3 Ways – sweet rolls, savory rolls and babka"   
Brian Hart Hoffman, President and Chief Creative Officer of Hoffman Media, LLC, and Editor-in-Chief of Bake from Scratch. Sponsored by Red Star Yeast.
2:00 p.m.: "Bake, Learn, Share"
Libby Treadway, King Arthur Flour's Bake for Good: Kids Instructor. Sponsored by King Arthur Flour.
3:00 p.m.: NEW!
Welcome
Introduction of Judges
"Grand March" of Eight Finalists
Posting of the Colors
National Anthem
Introduction of Eight Finalists
Judging Begins
4:00 p.m. Announcements, Grand Door Prize & Awards
Grand Door Prize Drawing for Professional KitchenAid Mixer
Silent Auction Winners
Soy Awards
Social Media Popular Choice Award
"Taste, Vote & Bid" People's Choice Award
2019 National Festival of Breads Home Baker & Food Blogger Champions
Retirement of Colors
Flint Hills Room
Check in with Connie and Sharon and bring your burning baking questions! Together they bring you 100+ years of test kitchen, classroom, extension, community, home and culinary baking expertise. They'd love to hear your baking challenges and share tried and true baking practices!
Do you teach young people or adults how to prepare food? Gain baking STEAM (Science, Tech, Engineering, Art and Math) ingredient knowledge and activities for home, classrooms or out-of-school education.
This new educational area will assist you with your ingredients, methods, and equipment questions and build your home baking success and teaching resources and knowledge.
Session Schedule
8:45 – 9:15 a.m. Top Ten Tips for Baking Success
Bread baking ingredient and method essentials demonstrated and resources shared. 
9:45 – 10:15 a.m. Baking Food Safety 101
Evaluate the teachers on the six steps of baking food safety as they demonstrate a basic dough. View new 1-minute Did you Know? Flour Food Safety video. 
Receive Baking Food Safety 101 guide and "Is it Done?" baking temperatures Infographic. 
10:45 – 11:15 a.m. Baking Pans and Pan Substitutions
What if I don't have the pan called for in the recipe? How do I grease or line pans?  How much
difference can the PAN used make and what adjustments do I need to make for different pans? 
See how to choose pan substitutes and take home a pan guide.
11:45 a.m. – 12:15 p.m. Yeast Breads, Slow and Fast
Fast-rise or slow fermentation, you can succeed with both types of yeast breads. Take home
Temperatures for Yeast Bread Success and What Happened to the Yeast Bread solutions.
12:45 – 1:15 p.m. Baking with Butter, Shortening and Oils, A to Z.
Does the type of fat used in baking bread matter? Do I need salted or unsalted butter?  What vegetable oil should I use? Learn the options, the functions and benefits of each in bread baking. 
1:45 – 2:15 p.m. Baking Whole and Ancient Grain Breads
From "ancient" to modern, whole grains are shaping bread dough. Receive guides for Ancient Grains; Baking Whole Grain Breads; How to Bake with Sprouted Wheat Flour; and What is Gluten?
Sessions led by:
Sharon Davis, Family & Consumer Sciences Education; Home Baking Association, HomeBaking.org
Connie Nieman, Family & Consumer Sciences Teacher; Kansas Wheat & HBA Spokesperson
Presented by Kansas Wheat Commission Spokespersons
9:00 - 10:00 a.m.  Ann Domsch
10:00 - 11:00 a.m.  Melanie Eddy
11:00 a.m. - Noon  Cherry Coen
Noon - 1:00 p.m.  Jessica Blake
1:00 - 2:00 p.m.  Janice Gates
2:00 - 2:45 p.m.  Jean Ann Troutt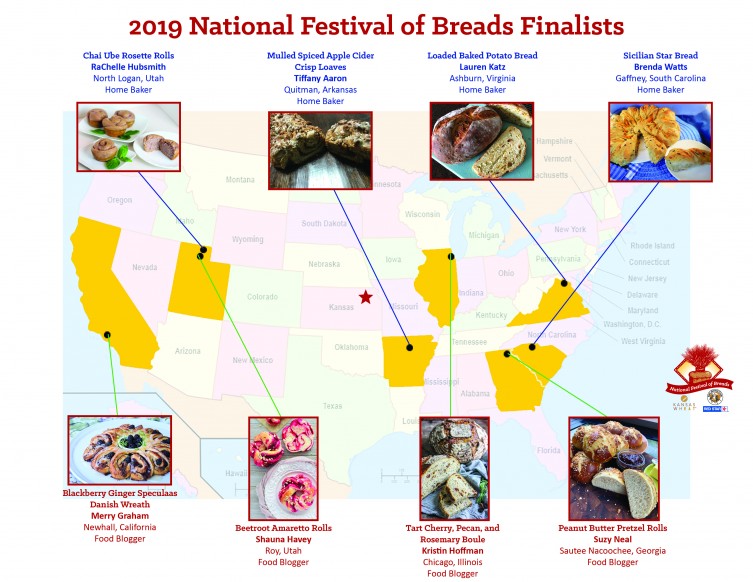 Recent news
---