Bakers, start your mixers! Enter the 2021 National Festival of Breads by Feb. 22
February 9, 2021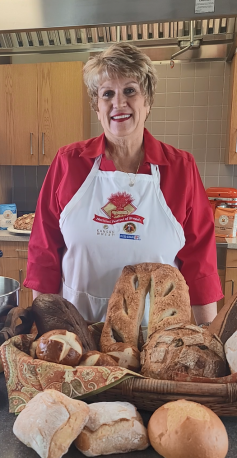 Home bakers, it's time to start your mixer and your oven. The seventh National Festival of Breads baking contest is accepting entries of original yeast bread recipes through Feb. 22, 2021. Here are a few tips from Cindy Falk, nutrition educator with the Kansas Wheat Commission and NFOB co-chairperson, to help you earn a spot in the nation's premier bread baking contest. You could win cash prizes and baking bundles from sponsors Kansas Wheat, King Arthur Baking Company and Red Star Yeast. 
"Our test bakers and judges are ready to see what your yeast bread or roll will look and taste like," Falk said. "We can't wait to see what you come up with."
Recipes must be an original yeast bread or roll recipe. To develop a never-before-seen recipe, try adding new flavor combinations, creating a bread shape, changing the appearance, exploring your heritage or updating an old family recipe. See if a traditional recipe could be prepared differently or have a more convenient ingredient substituted. Capitalize on cooking and eating trends — the possibilities are endless!
While the contest does award artistic flair, make sure your recipe follows the official rules to rise to the top. For example, the contest requires using King Arthur flour and Red Star Yeast, although both companies offer many options to mix up your recipe. Each recipe should also make one or more loaves of bread or at least one dozen rolls.
Accuracy is important, so proofread your recipe for every detail. Make sure you have provided the list of ingredients in the order that they will be used and have given accurate and concise step-by-step directions. Double-check measurements — including that they follow U.S. measurement standards (cup, tablespoon, teaspoon, etc.) — and don't forget the temperature of liquids like water or milk.
When you have tested and re-tested your recipe in your own kitchen, show off that beautiful loaf or roll. A photograph is required with your entry! Taking a photo with your cell phone is a snap, but use simple food photography tricks to make it Instagram-worthy. Cut at least one slice or roll to show the inside and outside of your entry. Arrange it on a plate (white always works) and use a kitchen towel or fresh herbs to add some flair. Place the display near a window to use natural daylight to brighten your shot. 
All of these tips help demonstrate your creative baking skills to the team of food professionals who will read and evaluate entries. The top recipes in both the youth and adult categories will be test baked. Finalists will be selected on taste and quality, appearance, artistic flair, nutritional value and the submitted photo, among other criteria. 
"Enjoy creating a winning yeast bread recipe that represents your unique baking style. We are excited to try out the best entries in our test kitchen," Falk said. "If you become a finalist, bakers across the country will enjoy your original recipe."
Check out all of Cindy's secrets for a successful recipe submission at https://nfb2021.com/tips/.
---