Almost Time to Crown the Champion of the 2021 Virtual National Festival of Breads
June 3, 2021
The aroma of freshly baked bread wafting through the room. The burst of flavor from an unexpected ingredient. The happy chatter of attendees as they taste samples. While these hands-on experiences are hard to replicate, don't miss out on this year's National Festival of Breads just because it is virtual. Tune in on June 9, 2021, at 3:00 p.m. central time, to hear the stories behind the finalists' winning recipes, learn some new baking tips and watch the crowning of America's next top bread baker.
"The National Festival of Breads continues to celebrate the creativity of America's home bakers," said Cindy Falk, co-chairperson of the event and nutrition educator for Kansas Wheat. "Our virtual contest expanded opportunities for adult and youth competitors — and for everyone to join us to celebrate from the comfort of their own homes."
The seventh National Festival of Breads is sponsored by Red Star Yeast®, King Arthur Baking Company® and Kansas Wheat. Recipes submitted by three adults and two youth finalists — representing states from coast to coast — were hand-picked to be featured during this year's virtual festival.
Who will win the Best of Breads Champion? And who were voted as the People's Choice winners? Will it be...
Anakkart Barth from Long Beach, California, who based the recipe for her Savory Thai Peanut Sauce Rolls on her family's secret ingredient for their favorite PB&J sandwich — Thai peanut sauce, of course!
Will the hand-harvested wild rice featured in Hearty Wild Rice'n Tart Cherry Bread take the top prize? Submitted by Barbara Estabrook from Appleton, Wisconsin, the recipe also features orange marmalade, dried tart cherries, pecans and maple syrup.
Or will Susan Simpson from Harrington, Delaware, take the top spot? She grew up on her German grandmother's kitchen counter, transcribing the handfuls of flour and splashes of milk into the recipe she would adapt to be her entry, Apricot-Raisin Babka Ring.
And don't forget about the youth finalists - both high schoolers from Kansas.
Madee McKee, a high school senior from Wamego, created her coffee shop-inspired Blueberry Blossom Tree Braids as part of a school internship class. The creative bread shape includes buttermilk, honey and dark expresso twisted into a tree and topped with a dollop of blueberry jam in each top blossom.
And Maggie Sleichter's Strawberry Lemonade Swirls combine some of summer's favorite flavors. The Clay Center teen based her zesty recipe - which combines homemade red strawberry jam and lemon-flavored dough - on a recipe from the 2019 National Festival of Breads, which Sleichter attended with her grandmother.
Hungry yet? Don your apron and try out the winning recipes for yourself before the contest at www.NationalFestivalofBreads.com. Then tune in at 3:00 p.m. central on June 9 on Facebook at facebook.com/NationalFestivalOfBreads to see if your favorite wins a prize.
For notifications on when the premier is going live, like the National Festival of Breads Facebook page or sign up for the festival's newsletter at www.NationalFestivalofBreads.com.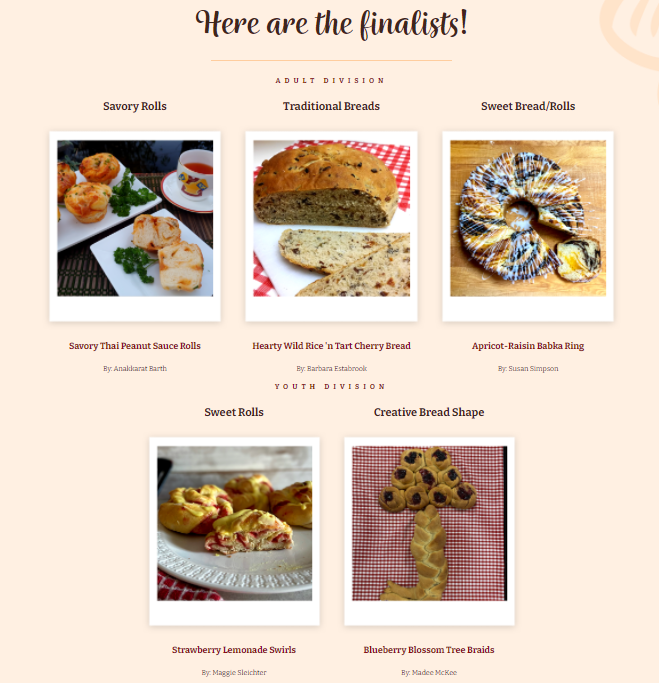 ---