Peppered Parmesan Veggie Bread
2015 National Festival of Breads Finalist
Patrice Hurd, Bemidji, Minnesota
"This soft, savory whole wheat bread has exceptional flavor, texture, and is loaded with healthy ingredients. I love the simplicity of adding whole grain goodness to a yeast bread with the King Arthur White Whole Wheat Flour. I also love the new RED STAR® Platinum® Yeast…great products make great bread!"
Yield: 2 loaves, 16 servings each.
Ingredients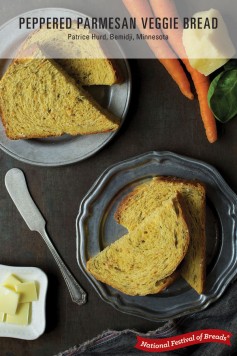 2 teaspoons dried minced onion
½ teaspoon ready-to-use minced garlic
3 tablespoons (1 ¼ ounces) light olive oil
2-ounce wedge Parmesan or Parmigiano-Reggiano cheese, cut into a few pieces
2 to 3 medium carrots, peeled and cut into 1-inch pieces
2 ½ cups (11 ounces) King Arthur White Whole Wheat Flour, divided
2 to 2 ½ cups (10 to 12 ½ ounces) King Arthur Unbleached Bread Flour, divided
2 (¼ ounce) packages RED STAR® Platinum® Yeast
¼ cup (1 ½ ounces) dry steel cut oats
2 teaspoons salt
2 teaspoons coarsely cracked multi-colored peppercorns
2 tablespoons (1 ¼ ounces) granulated sugar
¼ cup (1 ¼ ounces) dry buttermilk powder
1¼ cups (10 ounces) water
1 large egg
1 cup (1 ¾ ounces) firmly packed fresh baby spinach leaves, stems removed and coarsely chopped
½ tablespoon (¼ ounce) unsalted butter, melted
Directions
Combine onion, garlic, and olive oil in a small bowl; set aside.
Pulse cheese in food processor until finely chopped (will be about ½ cup) and remove.  Finely chop enough carrots in food processor to measure 1 cup (4 ½ ounces) and reserve.
In a stand mixer bowl fitted with paddle, mix together 1 ½ cups white whole wheat flour, 1 cup bread flour, yeast, oats, salt, pepper, sugar, and buttermilk powder.
Heat water to 120° to 130°F and pour over the dry ingredients; blend on low speed for 2 minutes. Mix in egg, spinach, olive oil mixture, cheese, and carrots. Beat on medium speed 3 minutes.
Stir in remaining white whole wheat flour and enough bread flour to form a soft dough.  Remove paddle, cover dough with plastic wrap, and let it rest 15 minutes. Knead dough with hook until smooth and elastic, about 10 minutes. Transfer dough to a greased bowl; cover, and allow the dough to rise until doubled, about 1 hour.
Lightly grease two 9" x 5" loaf pans. Deflate the dough and divide into half. Shape into loaves by rolling each piece of dough into a 14" x 7" rectangle. Starting with shorter side, roll up tightly, pressing dough into roll. Pinch edges and ends to seal. Place in pans, seam-side down; cover with plastic wrap, and let rise 45 to 60 minutes. A finger pressed into the dough should leave a mark that rebounds slowly. Near the end of the rise, preheat oven to 375°F.
Using a sharp knife or lame, cut three diagonal slashes, ¼" deep, in each loaf. Bake 30 minutes or until golden brown and an instant-read thermometer inserted near the center of the loaf registers about 200°F. Remove loaves from oven. Brush with melted butter and after 5 minutes turn out onto a rack to cool.
Nutrition Information Per Serving (1 slice, 59g): 120 calories, 3g fat, 3g fiber, 1g saturated fat, 0g trans fat, 20g carbohydrates, 10mg cholesterol, 200mg sodium, 5g protein, 2mg vitamin C, 1mg iron, 59mg calcium.
Baker's Bio
To view Partice Hurd's finalist bio click here.
---