Heritage Inspired: Meet Patrice Hurd
May 5, 2017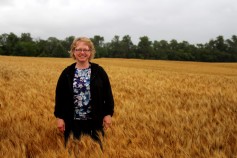 Growing up, Patrice Hurd, from Bemidji, Minnesota, was surrounded by different ethnic foods. Having a Finnish grandmother and a Slovenian grandmother, her background included much of the tastes familiar with those countries. As well as being avid cooks, they also both loved to bake, which was huge influence for Hurd growing up.
"They both had their own ethnic things they baked all of the time; they were both very avid bakers. So, between the two of them, it was hard for me not to become a baker," Hurd says.
Hurd says that the Slovenians have two coffee breaks throughout the work day, so the recipes tended to be used quite often at her house, and the breads that were baked became quite a tradition for different events or even just to bake and give to neighbors.
Since Hurd has been baking these recipes since she was a child, it was only fitting for her to submit a recipe to the National Festival of Breads that showed off the diversity in her baking style. Hurd says the influence for the recipe came heavily from her grandmother's recipe she would bake with cardamom.
"I grew up with that cardamom scent in her kitchen, and it was just intoxicating to me," Hurd says.
Toasted Cardamom Nordic Crown was a base recipe from her grandmother that Hurd tweaked to make her own. Hurd says that since cardamom was such a familiar smell in the house when her grandma would bake, she had to include it to the recipe.
 "The Finns called it pulla and what it is, is a Finnish cardamom bread. So, this is basically her recipe that I kind of updated and added some of the sprouted wheat flour to," Hurd says.
Along with Hurd's Toasted Cardamom Nordic Crown being a top eight finalist in the NFOB, she is also being recognized in two other categories for different recipes. Hurd won the award for the Best Recipe Using King Arthur® Sprouted Wheat Flour with her recipe, Savory Sprouted Wheat and Wild Rice Rolls. She also won the Kansas Pork Association's award for the Best Recipe Using Pork with her Bacon Mac & Cheese Sprouted Wheat Rolls.
This is the second time in a row Hurd has qualified as a top eight finalist in the NFOB. She says that after the last contest in 2015, she is ready to be back.
Hurd says, "I was so hoping to get back there because it was such a great cook-off. It was a great experience with a very down home, relaxed feeling. It's not stressful. At this one, you feel at home, and it's such a warm, heart-filled contest.
By Hannah Schlapp, Kansas Wheat Communications Intern
---