Curry and Chia Onion Buns
2015 National Festival of Breads Finalist
Merry Graham, Newhall, California
"I found a beautiful crisscrossed Euro onion bun at a bakery. I loved its yellow color and the charm of the crisscrossed slashes on top. It became my mission to replicate it. I studied saffron bread baking and wondered if curry would also create a yellow bun. I tried a combination of curry and carrot juice. Perfection! I love the flavor and texture. They can be eaten as a roll or used as a bun for sandwiches."
Yield: 12 buns.
Ingredients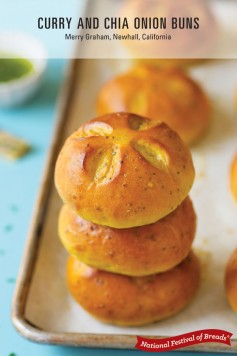 1 cup (4 ¼ ounces) King Arthur White Whole Wheat Flour
1 package (¼ ounce) RED STAR® Platinum® Yeast
¼ cup (2 ounces) water
½ cup (4 ounces) carrot juice
¼ cup (2 ounces) agave nectar
2 tablespoons (1 ounce) salted butter
¼ cup (2 ounces) coconut oil
3 large eggs
1 teaspoon sea salt
1 teaspoon curry powder
½ teaspoon onion powder
1 ½ teaspoons dried minced onion
2 tablespoons (½ ounce) chia seed
2 ½ to 2 ¾ cups (12 to 13 ½ ounces) King Arthur Unbleached Bread Flour
1 large egg plus 1 tablespoon water, for the egg wash
Garlic Chive Butter (Optional)
1 clove fresh garlic, grated
¼ cup (2 ounces) salted butter
2 tablespoons (¼ ounce) minced fresh chives
Directions
In the bowl of a stand mixer fitted with dough hook, mix the white whole wheat flour and yeast.
In microwave-safe bowl, heat water, carrot juice, agave nectar, butter, and coconut oil to very warm, 120° to 130°F. Pour into mixer bowl and beat on low speed. Let rest 5 minutes.
Blend in eggs, salt, curry powder, onion powder, onion, and chia seed. Gradually add enough bread flour to form a soft dough. Knead on medium speed 5 minutes. Transfer dough to a large greased bowl, cover with plastic wrap and let rise until doubled, about 1 hour.
Line 2 cookie sheets with parchment. Deflate dough, divide into 12 equal pieces and shape into smooth balls; flatten to 3" wide. Place 6 buns on each cookie sheet at least 2" apart. With kitchen shears, make 4 (½" deep) cuts on the top, pointing towards the center. Cover with plastic wrap; let rise 30 to 40 minutes. Near the end of the rise, preheat oven to 375°F.
Brush buns with egg wash. Bake 20 to 25 minutes, until golden brown. When baking with multiple pans in oven, rotate pans halfway through baking time. If needed, cover loosely with aluminum foil to prevent buns from over-browning. Remove buns from oven and cool on a rack.
If desired, combine Garlic Chive Butter ingredients in microwave-safe bowl and heat until butter has melted. Brush butter on warm buns and serve remaining with buns.
Nutrition Information Per Serving (1 bun, 88g): 260 calories, 9g fat, 3g fiber, 6g saturated fat, 0g trans fat, 36g carbohydrates, 65mg cholesterol, 240mg sodium, 8g protein, 1mg vitamin C, 2mg iron, 30mg calcium.
Baker's Bio
To view Merry Graham's finalist bio click here. 
---