May 8, 2015
Meet Merry Graham and her Curry and Chia Onion Buns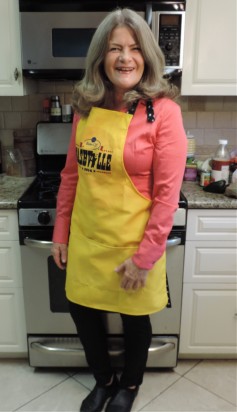 While competing in the sandwich category of the Las Vegas World Food Championships in 2014, Merry Graham, from Newhall, California, happened upon a Euro onion bun that she absolutely loved. Inspired by this bun she created a similar roll for her winning entry into the 2015 National Festival of Breads.
Graham challenged herself to replicate the same yellow color that the Euro onion bun possessed. Having prior knowledge from participating as a finalist in the 2013 National Festival of Breads, Graham knew the importance of adding nutritional ingredients to enhance recipes, so she decided against using artificial ingredients like food coloring.
On her first attempt she tried to double the amount of whole wheat flour and also add only curry powder to her recipe. Those rolls had an off color that Graham did not find appealing.
"I went back to the drawing board and thought about how I was going to incorporate a little bit of yellow in a natural way," said Graham. "That is when I thought of carrot juice. When I made the rolls with the carrot juice and lowered the amount of whole wheat flour it worked beautifully."
Graham assumed that replacing the water in the recipe with carrot juice wouldn't have much of a chemical difference than water. As a result the carrot flavor is not distinguishable in the finished rolls and is only used as a source of color. The carrot juice also does not add texture to the buns, which is why she decided to not include it in the title.
The color of the Euro Onion bun was not the only feature that caught Graham's eye.
"I loved the little crisscrosses on the top of the Euro onion bun," said Graham. "I decided to give my rolls a couple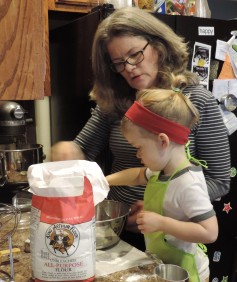 snips with scissors on the top and it worked well to achieve the same classy look of the Euro Onion bun." 
This isn't Merry's first time at the NFOB. During the 2013 festival, her Light and Fluffy Chia Whole Wheat Rolls were a finalist from the Whole Grains Category. Graham is excited to again make another field trip to the Kansas wheat fields and to participate in what she says is one of the most unique cook-off competitions in the United States.
Come check out the 2015 National Festival of Breads on June 13 in Manhattan, Kansas and get Graham's full recipe for her Curry and Chia Onion Buns.
Finalist Facts
When she was in her early twenties, Graham made her first loaf of Muenster bread in a class. The smell and the final product captured her attention for baking yeast breads.  The melted cheese oozing out when she cracked open her loaf won her heart right then and there.  
Graham says that she prefers baking for receptions and larger groups rather than just for her family. She volunteers to bake whenever there is a need for her catering services, about one to two times a month.
Baking bread takes Graham back to the root of family life and to the pies that her grandma Pearl always made. "It helps me to feel like I am healthy and am engaging in an activity that feels very beneficial for my mind and my tummy," she said.
by Audrey Schmitz  
---