Whole White Wheat Italian Focaccia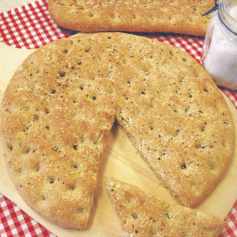 A 2002 Kansas Festival of Breads winning recipe made by Naomi Johnson, Great Bend, Kansas.
Ingredients
Sponge
2 cups whole wheat flour*
1 package RED STAR® Active Dry Yeast
1 teaspoon sugar 
1 ½ teaspoons garlic powder
1 tablespoon dried Italian seasoning
2 cups lukewarm water (110-115°F)
Dough
2 teaspoons salt
1 tablespoon olive oil
2 tablespoons dried grated  Parmesan Cheese
1 cup whole wheat flour
1 ½ - 2 cups bread flour
Cornmeal
Toppings (optional)
Olive oil, Parmesan or Romano Cheese, Kosher salt, Italian seasoning, fresh herbs
*Contestant used whole white wheat flour in recipe. 
Instructions
For sponge, combine in bowl, whole wheat flour, yeast, sugar, garlic powder, Italian seasoning, and water. Mix 2 minutes. Cover with plastic wrap; let rest 20 minutes.
Stir in salt, olive oil, and cheese. Add whole wheat flour; mix 2 minutes. Gradually add enough of the bread flour to form a soft dough. Knead dough 5 to 8 minutes. Place in lightly greased bowl. Cover; let rise until double.
Divide dough into two pieces. Gently pull or stretch each piece of dough into a circle or rectangle ¾-inch thick. Place on greased baking sheets or pizza pans that have been dusted with cornmeal. Cover, let rise 20 to 25 minutes.
Dimple dough with fingertips every ½ inch. Brush with oil; sprinkle on cheese and, if desired, Kosher salt. Let rest 5 minutes.
Bake in preheated 400°F oven 15 to 20 minutes, or until golden. During last several minutes of baking, sprinkle with Italian seasoning or fresh herbs. Best served fresh.
Makes 2 focaccia (16 servings each).
Nutrition information per serving (one serving): 67 cal, 1 g fat, 0 mg chol, 154 mg sodium, 13 g carbo, 2 g fiber, 3 g pro, 13 mcg folate.
---