Whole Wheat-Peanut Butter Pretzel Balls
Melissa Hinrichs, Elkhorn, Nebraska
Ingredients
1 ½ cups water (110°F - 115°F)
3 tablespoons honey
1 (¼ ounce) package RED STAR® Active Dry Yeast
3 ½ - 4 cups King Arthur® White Whole Wheat Flour, divided
3 tablespoons unsalted butter, melted
2 teaspoons Kosher salt
½ cup creamy peanut butter
WATER BATH
8 cups water 
¼ cup baking soda
TOPPING
1 large egg beaten with 1 tablespoon water
2 teaspoons coarse sea salt or pretzel salt (optional)
DIRECTIONS
In bowl of a stand mixer fitted with dough hook, combine water, honey and yeast. Wait 5 minutes for mixture to foam (proof). 
Add 3 ½ cups flour, butter and salt. Gradually add more flour to make a soft dough. Knead dough 3 - 4 minutes. Place dough in greased bowl, turning to coat. Cover; let rise until doubled.
Line a baking sheet with parchment. Drop 48, ¼ teaspoons of peanut butter onto parchment. Freeze 20 - 30 minutes. 
Preheat oven to 425°F. Divide dough into 4 pieces. Roll each piece into a 12" log; cut into 12 pieces. Keep dough covered.
Flatten dough in small circle and place one piece of peanut butter in center. Wrap dough around peanut butter and pinch ends firmly to seal forming a smooth ball. Place balls on a baking sheet; refrigerate 5 - 10 minutes.
For the water bath: In a large saucepan, bring water and baking soda to a rapid boil. 
Lightly spray 2 large baking sheets with no-stick cooking spray. Carefully place 12 balls into water bath at a time; cook about 30 seconds. Remove with a slotted spatula or spoon; transfer balls to baking sheets keeping smooth sides up and not touching. 
Brush with egg wash; if desired, sprinkle lightly with salt. Bake 10 - 12 minutes, until golden. Serve warm. Pretzel balls may be frozen and warmed in microwave.
KWC Test Kitchen Variation: In place of topping with salt, combine 1 tablespoon turbinado raw cane sugar and ½ teaspoon ground cinnamon to sprinkle on just before baking.
Yield: 48 pretzel balls
Nutrition Information Per Serving (1 BALL, 24g): 69 calories, 2g protein, 10g carbohydrates, 2g dietary fiber, 2g fat, 1g saturated fat, 0g trans fat, 2mg cholesterol, 4mcg folate, 90mg sodium, 0mg vitamin C, 0mg iron, 1mg calcium.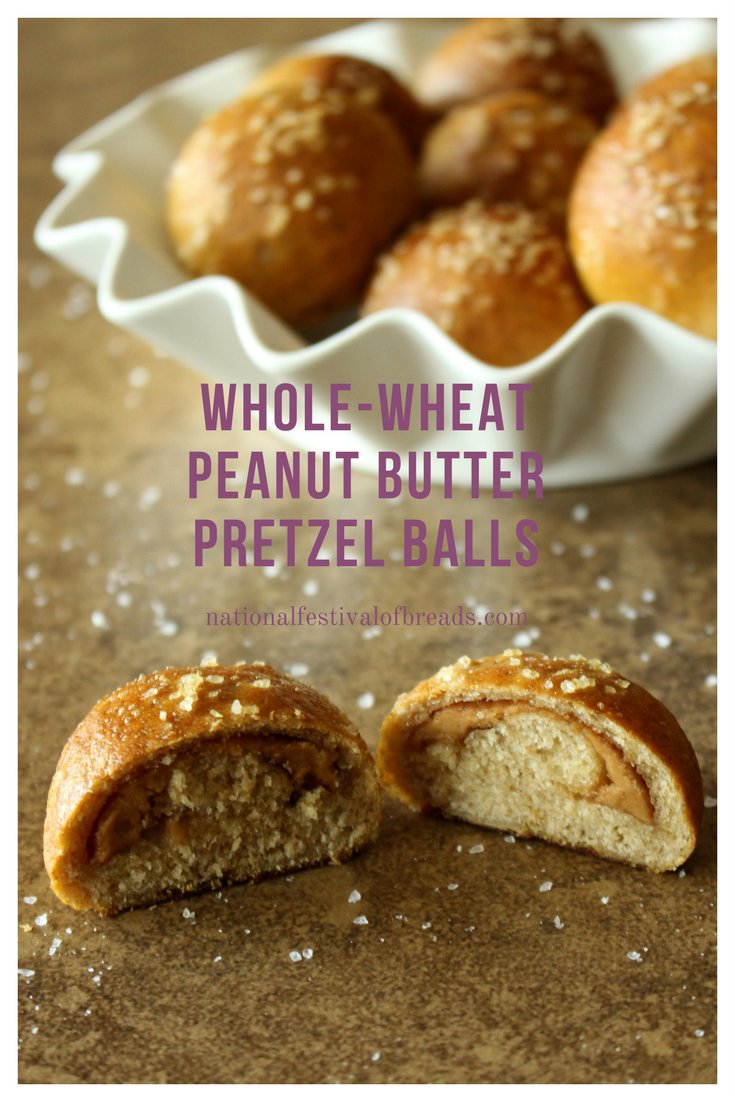 ---