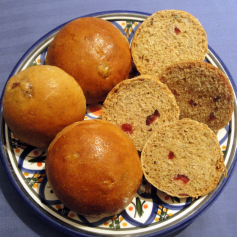 Ingredients
2 teaspoons olive oil
1/4 cup minced shallots or fresh green onions
2 cups warm water (100° - 110°F)
1 package (1/4 ounce) active dry yeast
1/2 teaspoon granulated sugar
4 1/2 - 5 cups white whole wheat flour, divided
1/2 cup dried cranberries, chopped
2 tablespoons vital wheat gluten
3 tablespoons honey
4 tablespoons unsalted butter, softened
3 tablespoons minced fresh herbs, 
(sage, thyme, marjoram, rosemary), or
3 teaspoons dried herbs, crushed
2 teaspoons salt
1 egg beaten with 1 tablespoon water
Directions
In skillet, heat oil on medium-high heat; sauté shallots until tender. Set aside; cool.
In mixer bowl, combine water, yeast and sugar; let stand 10 minutes.
Stir in 2 cups flour, cranberries and wheat gluten; mix 2 minutes on low speed. Stir in honey, butter, herbs, salt and shallots. Beat 2 minutes on low speed. Gradually add enough of the remaining flour to make a slightly sticky dough. Keep the dough as soft as possible, almost sticky, just so you're able to handle. 
Knead by hand or with dough hook 10 to 12 minutes. Avoid adding too much flour. Place dough in oiled bowl, turning to coat. Cover with damp cloth and let rise in warm place until double. (1 1/2 to 2 hours)
Punch down dough. Divide dough into 24 portions; let rest covered 10 minutes. Shape into round rolls; place rolls, 2 inches apart, on greased or parchment paper-lined baking sheets. Cover; let rise until double.
Preheat oven to 375°F. With sharp knife or lame, slash a 1/4-inch deep cross in the top of each roll. Brush entire surface with egg wash. Bake 15 to 20 minutes, or until golden brown. Remove from pan to wire rack to cool. 

Makes 24 rolls.
Nutrition information per serving:
One roll provides approximately 145 calories; 4 g protein; 25 g carbohydrate; 4 g dietary fiber; 3 g fat (1 g saturated); 13 mg cholesterol; 2 mcg folate; 1mg iron and 199 mg sodium.
---