Whole Wheat Cinnamon Rolls (Half-Sheet Pan)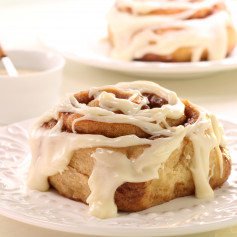 Pure goodness! A great recipe for potluck meals for a crowd or gift-giving. A favorite recipe since the 1980s.
Ingredients
SPONGE 
2 (¼ ounce) packages active dry yeast
1 cup warm water (110°F - 115°F)  
1 cup warm whole milk (110°F - 115°F)
⅓ cup honey
2 large eggs, beaten
3 tablespoons vital wheat gluten (optional)
4 cups white whole wheat flour
DOUGH
1 ½ teaspoons salt
¼ cup shortening
1 ½ - 2 cups bread flour 
CINNAMON ROLL SMEAR
1 cup (2 sticks) unsalted butter, softened
1 ½ cups packed brown sugar
3 tablespoons all-purpose or bread flour
2 tablespoons ground cinnamon
BUTTERY VANILLA GLAZE 
1 ½ cups confectioners' sugar, sifted
4 tablespoons (½ stick) unsalted butter, melted
1 ½ teaspoons pure vanilla extract
2 - 3 tablespoons whole milk
Directions 
In bowl of stand mixer bowl fitted with paddle, dissolve yeast in water; let proof 5 - 10 minutes. Beat in milk, honey, eggs, wheat gluten and white whole wheat flour.  Mix 3 minutes on medium speed. Cover with plastic wrap and allow sponge to rest 30 minutes.
Stir down sponge. Mix in salt and shortening. Switch to dough hook and gradually add bread flour to make a slightly sticky dough. Knead dough 8 - 10 minutes. Place dough in oiled bowl; turn to coat. Cover; let rise until doubled.  
Punch down dough. Cover; let rise again until doubled. 
Meanwhile, prepare cinnamon roll smear. In medium bowl, using a fork, blend ingredients to a smooth paste. Cover and set aside.
Punch down dough; cover and let rest 10 minutes. On lightly floured work surface, roll dough into 20" x 14" rectangle. 
Spread smear on dough leaving 1"strip at the bottom uncovered. Wet the uncovered dough by brushing with water. Starting from long side, roll up dough beginning with smeared side into a log.  Seal edge; cut into 20 slices. Place in greased 18" x 13" half-sheet pan in four rows of five rolls each. Cover; let rolls rise until almost doubled.  
Near the end of the rise, preheat oven to 375°F. Bake rolls 20 - 25 minutes or until golden. The internal temperature should register 190°F - 200°F. 
For glaze: In medium bowl, whisk ingredients until smooth  Drizzle over cooled rolls. 
Yield: 20 rolls. 
Tip: Do not skip the second rise as this makes a nice textured and light cinnamon roll.
NUTRITION INFORMATION PER SERVING (1 ROLL, 115g): 400 calories, 140 calories from fat, 15g total fat, 8g saturated fat, 0g trans fat, 50mg cholesterol, 200mg sodium, 59g total carbohydrate, 4g dietary fiber, 30g sugars, 6g protein, 40mcg folate, 0mg vitamin C, 2mg iron.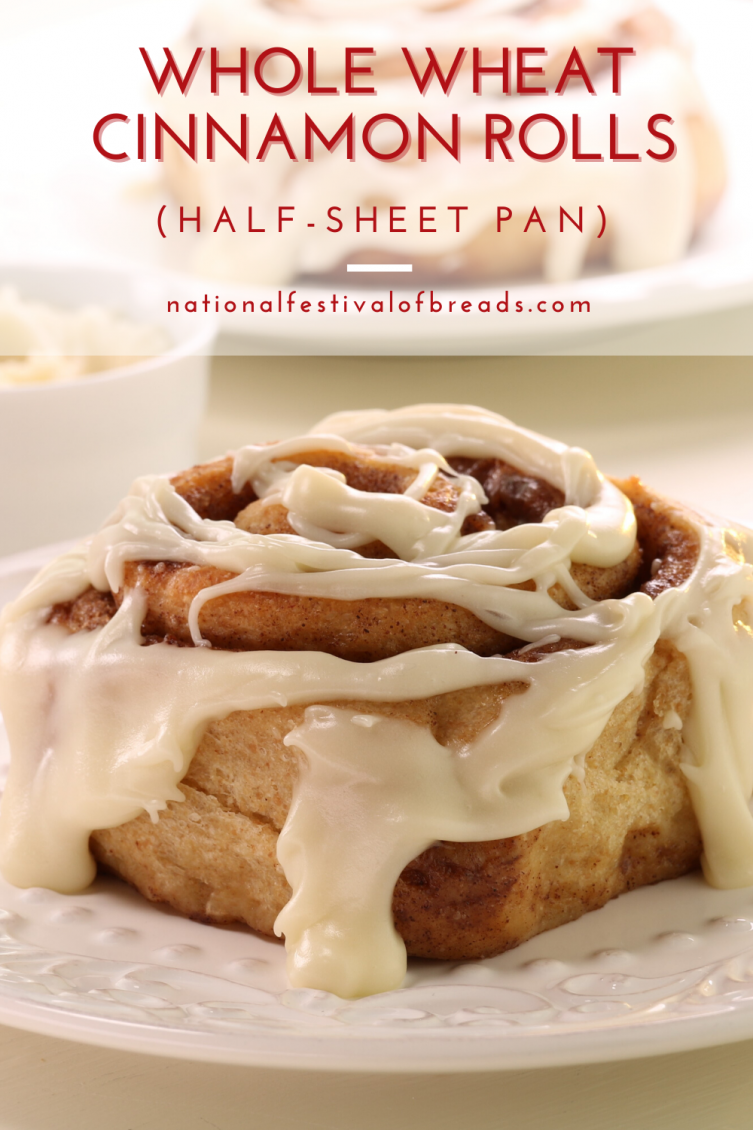 ---