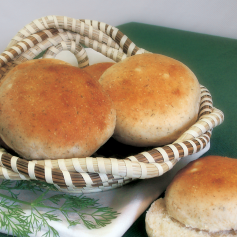 These buns have a delightful light texture and good flavor. The special ingredient is dill weed.
Ingredients
2 packages RED STAR® Active Dry Yeast
2 cups whole wheat flour
2 teaspoons dried dill weed
¼ cup granulated sugar
2 teaspoons dehydrated minced onions soaked in 1 tablespoon water
2 teaspoons salt
2 tablespoons margarine or butter
2 beaten eggs
1 (16-ounce) carton small curd cottage cheese, room temperature
½ cup hot water (120-130°F)
3 ½ - 4 cups bread flour
Instructions
In large mixing bowl, combine the yeast, whole wheat flour, dill weed, sugar, onion, and salt. Add the margarine, eggs, and cottage cheese.
Add the water; beat at medium speed 2 minutes, scraping bowl often.
Stir in 1 cup bread flour, mixing well. Gradually add enough of the remaining flour to form a soft dough. 
Knead 10 to 12 minutes or until smooth and elastic. (Dough should be slightly sticky). Place in greased bowl, turning to grease top. Cover; let rise in warm place until double.
Punch down dough; cover, let rest 10 minutes. Divide dough in half; cut each half into 12 pieces. Shape each in a smooth ball. Place on greased baking sheets. Flatten to form a bun. Cover; let rise until double.
Bake in preheated 400°F oven 10 to 12 minutes, or until golden. Remove from pans and cool on wire rack. 
Makes 24 buns
Nutrition information per serving (one bun): 150 cal, 3 g fat, 21 mg chol, 286 mg sodium, 25 g carbo, 2 g fiber, 7 g pro, 53 mcg folate.
---