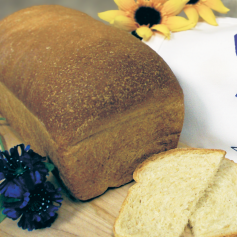 Viola Unruh, Montezuma, Kansas, received the Champion prize in the first Kansas Festival of Breads baking contest held in 1990. In addition, Viola and her recipe were featured in an international publication, The Bread Book, by Linda Collister and Anthony Blake.
Ingredients
6 ½ - 7 cups bread flour
2 packages RED STAR® Active Dry Yeast
½ cup lukewarm water (110-115°F)
2 tablespoons granulated sugar
3 cups hot water (120-130°F)
⅓ cup brown sugar
1 tablespoon salt
⅓ cup vegetable shortening
3  tablespoons vital wheat gluten
2 cups whole wheat flour
1 beaten egg
Instructions
Stir and spoon flour into a dry, standard measuring cup. Level off with straight-edged knife. 
Dissolve yeast in water with granulated sugar. Combine hot water, brown sugar, salt, shortening, vital wheat gluten, and whole wheat flour; mix 2 minutes. Stir in yeast and egg; beat well. Stir in 2 cups bread flour, mix well. Cover, let rest 10 minutes.
Stir in enough remaining bread flour to make a moderately soft dough. Knead on a lightly floured surface till smooth and satiny, 10 to 12 minutes.
Place in lightly greased bowl, turning to grease surface. Cover, let rise in warm (80°F) place until double. Punch down. Divide in fourths, shape each into a smooth ball. Cover; let rest 10 minutes. Shape into loaves; place in greased 8 ½ x 4 ½ x 2 ½-inch pans. 
Cover, let rise in warm (90°F) place until double.
Bake in preheated 400°F oven 10 minutes; reduce heat to 350°F, bake 25 minutes. Remove from pans; cool on racks.
Makes 4 loaves, 16 slices each.
Notes
Nutrition information per serving (one slice): 81 cal, 1 g fat, 3 mg chol, 111 mg sodium, 14 g carbo, 1 g fiber, 2 g pro, 29 mcg folate.
---