Patrice Hurd, Bemidji, Minnesota
Ingredients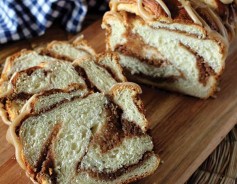 3 ½ - 4 cups King Arthur® Unbleached All-Purpose Flour, divided 
2 (¼ ounce) packages RED STAR® Platinum Superior Baking Yeast
½ cup water 
¼ cup (½ stick) unsalted butter
¼ cup honey
½ cup sour cream
½ teaspoon salt
2 large eggs
WALNUT FILLING
2 cups English walnut pieces
¼ cup honey
¼ cup (½ stick) unsalted butter, softened
1 tablespoon King Arthur® Unbleached All-Purpose Flour
1 teaspoon ground cinnamon
2 large egg yolks
MAPLE GLAZE
2 tablespoons unsalted butter
2 tablespoons honey
¼ teaspoon maple extract
½ cup confectioners' sugar
Directions
For the dough: In bowl of a stand mixer fitted with paddle, mix 3 cups flour and yeast. Heat water, butter, honey, sour cream and salt to 120°F - 130°F. On low speed, slowly pour over dry ingredients until blended. 
Add eggs and beat at medium speed 2 minutes; add enough remaining flour to make a soft dough. Switch to dough hook, knead 10 minutes. Place dough in greased bowl, turn to coat. Cover; let rise until doubled.
Lightly grease and line with parchment two 8 ½"x 4 ½" loaf pans. Turn dough out onto a lightly floured surface and press to deflate. Cover; let rest 5 minutes.
For the filling: Place walnuts in food processor or blender and finely grind to a paste. Pulse in honey, butter, flour, cinnamon and egg yolks.
Divide dough in half and roll into a 14" square. Spread half of the filling to within 1" of edges. Roll up, pinch seam to seal. With seam-side down, with a sharp knife, cut roll in half lengthwise, cutting clear through the dough. 
Place halves, side-by-side with cut edges up; twist together several times, keeping the cut edges up. Pinch ends to seal, tuck under loaf. Transfer to pan. Repeat with other half. Cover with lightly sprayed plastic wrap; let rise until doubled. Preheat oven to 350°F.   
Bake loaves 40 minutes or until golden. If needed, loosely cover bread with aluminum foil to prevent over-browning. The bread is done when a thermometer inserted into the center registers 195°F. Cool in pan on rack 10 minutes. Peel away parchment and place loaves on rack to cool.
For the glaze: Heat butter and honey in microwave until butter melts. Whisk in maple extract and confectioners' sugar; drizzle over bread.
Yield: 2 loaves, 18 servings each. 
Nutrition Information Per Serving (1 SLICE, 44g): 160 calories, 3g protein, 19g carbohydrates, 1g dietary fiber, 9g fat, 3g saturated fat, 0g trans fat, 30mg cholesterol, 45mcg folate, 40mg sodium, 0mg vitamin C, 1mg iron, 16mg calcium.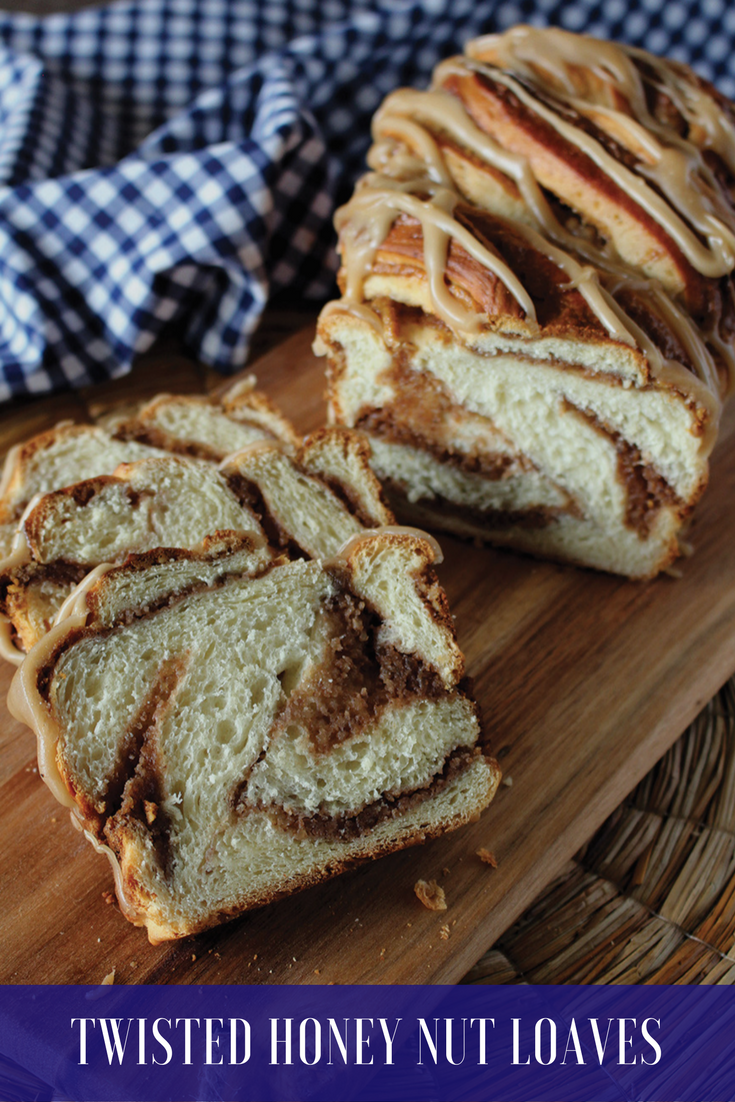 ---