Triple Tangerine Twirling Treats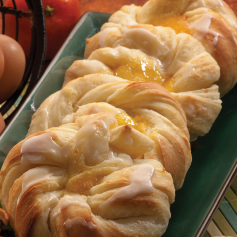 National Festival of Breads Finalist
Lois Dowling, Tacoma, WA
This quick and easy recipe helps me use up some of those many tangerines I receive each Christmas. 
Prep Time: 60 minutes
Bake Time: 13 minutes
Yield: 12 rolls
Ingredients
2 juicy tangerines 
3 ½ cups King Arthur All-Purpose Flour 
2 (¼ ounce) packages rapid rise yeast 
1/3 cup granulated sugar, divided 
1 teaspoon salt 
½ cup (1 stick) unsalted butter, softened, divided 
3 eggs, beaten 
1 teaspoon cornstarch 
1/3 cup confectioners' sugar
Instructions
Coarsely chop one-half tangerine. (Do not peel.) Place into food processor and finely chop. Spoon into measuring cup; add enough hot water to measure ½ cup. Set aside. 
Juice remaining tangerines to measure 5 tablespoons. Add water if juice is too scantly. Set aside. 
In mixer bowl with paddle, place 3 cups flour, yeast, 3 tablespoons sugar, and salt; stir until combined. 
Warm chopped tangerine mixture to 120⁰F. Add to bowl, along with 1/3 cup butter and eggs. Change to dough hook and gradually add enough remaining flour to make a soft, smooth dough. Knead 5 to 8 minutes. 
Place dough into greased bowl. Cover; let rise until double, 30 to 40 minutes. 
On lightly floured surface, roll dough to 15 x 12-inch rectangle. Spread with remaining butter. Starting with 12-inch side, fold 1/3 dough over center, and fold over again to form a 12 x 5-inch rectangle. Pinch seams together. 
Cut into twelve 1-inch strips. Stretch and twist dough, shaping into coils on greased or parchment paper-lined baking pans, tucking ends under. Cover; let rise in warm place until double, about 30 to 40 minutes. 
Meanwhile, in a small saucepan, combine 4 tablespoons tangerine juice, remaining sugar, and cornstarch. Cook over medium high heat, stirring constantly, until thick. Cool. 
Preheat oven to 375⁰F. Make indentations in centers of risen rolls. Fill each indentation with one teaspoon tangerine filling. 
Bake 10 to 13 minutes to a delicate golden. Do not over bake. Remove to cooling rack. 
Blend remaining tablespoon juice with confectioners' sugar until smooth. Drizzle over warm rolls. 
Nutrition Information
One roll provides approximately 264 calories; 6 g protein;41 g carbohydrate; 1 g dietary fiber; 9 g fat (5 g saturated);67 mg cholesterol; 56 mcg folate; 2 mg iron and 214 mg sodium.
Kansas Wheat Commission Test Kitchen Note: If tangerines are not available, tangelos may be used in place of the tangerines.
Baker's Bio
Like many of today's home bakers, Lois Dowling became a baker by watching her mother as a youngster. Her baking talents were further refined by taking home economics classes in high school. Lois continued to bake, garden and sew while rearing three daughters; they have blessed her with eight grandchildren - all of whom especially enjoy Lois's breads and desserts. Lois, who hails from Tacoma, Washington, continues to volunteer, travel, bake, garden and sew - all at the young age of 81. She says a perfect day is "when the sun shines, which is extremely rare here!"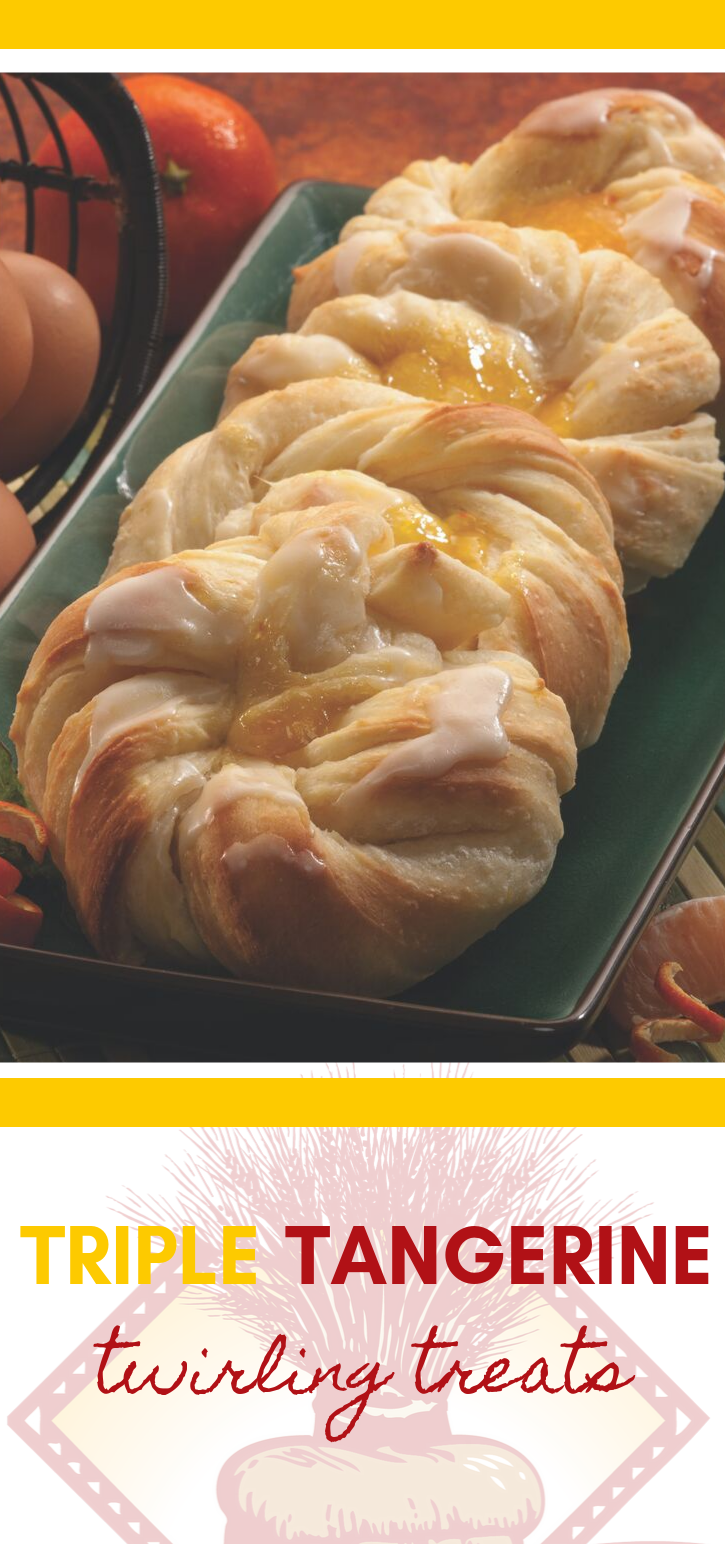 ---