Triple Chocolate Dessert Bread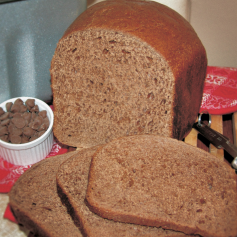 A tasty bread machine alternative to a high fat dessert, created by Kansas Wheat Commission secretary Julie Owens.
Ingredients
3 ¼ cups + 2 tablespoons bread flour
2 ½ tablespoons nonfat dry milk powder
2 ½ tablespoons brown sugar
1 ¼ teaspoons salt 
1 ½ tablespoons butter 
½ cup chocolate milk powder* 
½ cup semisweet chocolate morsels 
2 ½ tablespoons unsweetened baking cocoa 
1 ½ tablespoons vital wheat gluten 
2 ¼ teaspoons RED STAR® Bread Machine Yeast
1 ¼ cups water (80°F)
Instructions
Add ingredients to bread machine pan in the order suggested by manufacturer. 
Recommended cycles: Basic/white bread cycle; light color setting OR sweet bread cycle. Timed-bake feature can be used. Note: if machine does not have a light color setting, remove bread 5 minutes before cycle is complete. 
Check the consistency of the dough after 5 minutes into the kneading cycle. It should be in a moist soft ball. If the dough is too dry, add 1 tablespoon of liquid at a time. If it is too wet, add 1 tablespoon of flour at a time. 
Allow bread to cool before slicing. If desired, drizzle a confectioners' sugar glaze over the top.
*Chocolate milk powder includes products such as Nestle Quick. Do not use a product with NutraSweet. Heat changes the chemical composition of NutraSweet, causing a bitter taste in the final product. 
Variations: Use flavored hot cocoa dry mixes, such as raspberry flavor, Dutch chocolate, chocolate Irish cream, chocolate mint, or chocolate almond.
For the holidays, drizzle with confectioners' sugar icing and decorate with green and red maraschino cherries. 
Makes 1 (1 ½-pound) loaf, 16 slices.
Nutrition information per serving (one slice): 183 cal, 4 g fat, 3 mg chol, 234 mg sodium, 33 g carbo, 2 g fiber, 5 g pro, 75 mcg folate.
---