Jessie Grearson, Falmouth, Maine
Ingredients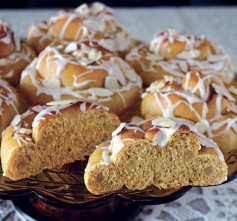 ½ cup cooked mashed Butternut squash or Hubbard squash
½ cup squash water, reserved from cooking squash
½ cup milk
5 tablespoons (3 ounces) unsalted butter, cubed
½ cup brown sugar
1 teaspoon ground cinnamon
2 tablespoons olive oil
2 teaspoons salt
2 tablespoons RED STAR® Active Dry Yeast
2 cups King Arthur® White Whole Wheat Flour, divided
½ cup finely ground almond meal/flour
2 large eggs, beaten
2 - 2 ½ cups King Arthur® Unbleached Bread Flour
7 - 8 ounces almond paste
ALMOND GLAZE
½ cup confectioners' sugar
1 teaspoon unsalted butter, melted
1/8 teaspoon almond extract
1 - 2 tablespoons milk or half-and-half
½ cup sliced almonds, toasted
Directions
Wash, peel, remove seeds and cube squash. In medium saucepan, add cubed squash and enough water to cover squash. Cover; cook over medium-low heat until squash is soft. Drain well and mash. Reserve ½ cup squash water.  
Heat milk until bubbles appear. Add butter, brown sugar, squash, cinnamon and oil. Stir until butter melts; add salt.
In bowl of a stand mixer fitted with paddle attachment, combine reserved squash water (110°F - 115°F) and yeast. Wait 5 - 10 minutes for it to foam (proof). Stir in white whole wheat flour, almond meal/flour, eggs and squash mixture; beat 2 minutes. Gradually stir in bread flour to make a soft, slightly sticky dough. With dough hook, knead 8 - 10 minutes. 
Place in greased bowl. Cover; let rise until doubled. Or, let rise in refrigerator overnight.
Divide dough into 4 pieces (if chilled, let come to room temperature for easy handling). Working with one piece, while keeping other pieces covered, roll into a 12" x 8" rectangle. Divide into six, 2" strips. 
Soften ¼ of almond paste in microwave a few seconds. Roll into a 24" rope; divide into six, 4" pieces. Place inside 2" strip and roll up; seal edges to form an 11" rope. Twist and coil rope into snail shape; pinch end and tuck under roll. Repeat.
Place on parchment-lined cookie sheets. Cover; let rise until doubled. Near the end of the rise, preheat oven to 375°F. Bake 13-18 minutes until light brown. 
For the glaze: Whisk together sugar, butter, almond extract and milk. Drizzle over rolls; garnish with almonds.
Yield: 24 rolls.
Nutrition Information Per Serving (1 ROLL, 72g): 240 calories, 6g protein, 32g carbohydrates, 3g dietary fiber, 10g fat, 2g saturated fat, 0g trans fat, 23mg cholesterol, 60mcg folate, 210mg sodium, 0mg vitamin C, 2mg iron, 47mg calcium.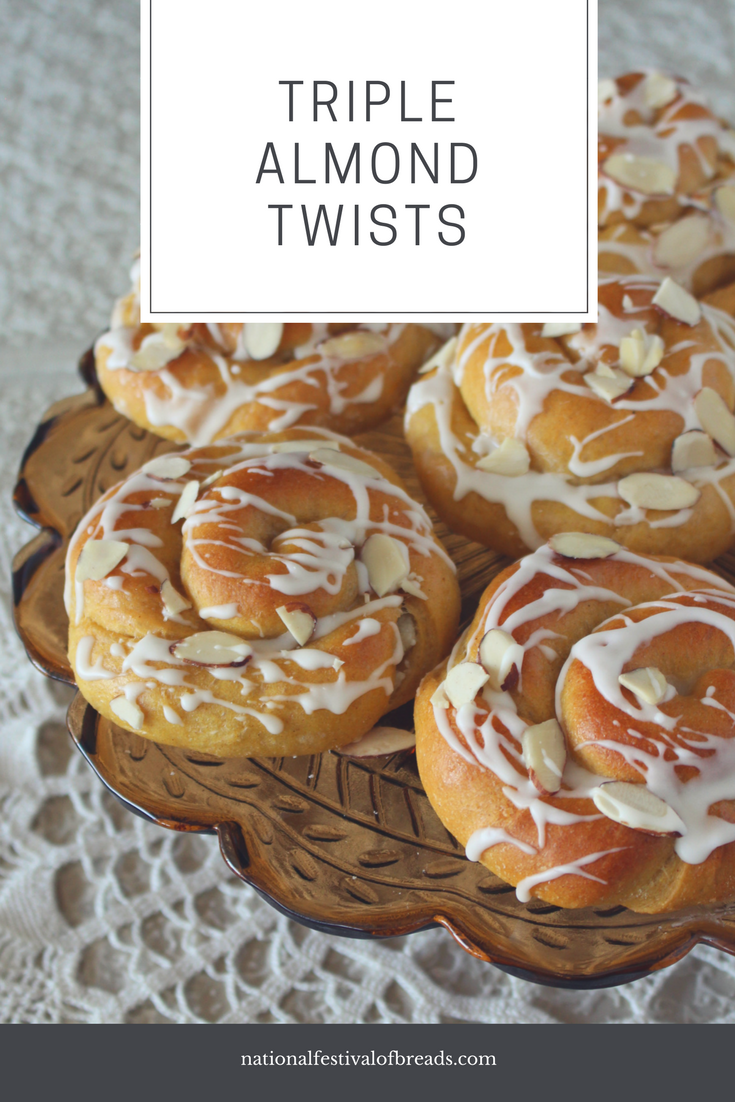 ---