Swirled Garlic Herb Bread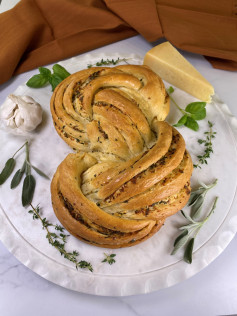 Willie Meador received a Grand Champion ribbon at the Franklin County Fair and a purple ribbon at the Kansas State Fair with this savory and attractive bread.
Ingredients
¾ cup warm whole milk (105°F-115°F)
2 ¼ teaspoons instant or active dry yeast
2 tablespoons honey
3 large eggs, room temperature
3 ½  - 4 cups bread or all-purpose flour
1 teaspoon salt
2 tablespoons unsalted butter, room temperature
Filling
4 tablespoons unsalted butter, room temperature
1 – 2 cloves garlic, finely chopped (1 – 1 ½ tablespoons)
¼ cup freshly grated parmesan cheese
½ cup fresh basil leaves, finely chopped
2 tablespoons chopped fresh thyme
1 tablespoon chopped fresh sage
Melted butter for brushing
Directions
In the bowl of a stand mixer, using the dough hook attachment, combine the milk, yeast, honey, eggs, 3 ½ cups flour and salt. Mix until the flour is completely incorporated, about 4 - 5 minutes.
Add 2 tablespoons butter and mix until combined, about 2 – 3 minutes more. If the dough is still sticky, add enough additional flour to form a soft, workable dough.
Place dough in greased bowl; cover with plastic wrap and let rise at room temperature until doubled, about 1 hour.
Meanwhile, in a small bowl combine the filling ingredients.  
Punch dough down; roll out onto a lightly floured surface into a 12"x 18" rectangle. Spread the garlic herb butter evenly over the dough. Starting with the long edge closest to you, roll the dough into a log, keeping it fairly tight as you go. When you reach the edge, pinch along the edge to seal.
Using a sharp knife, cut the log of dough in half lengthwise, leaving a very small portion at one end intact. Turn the halves to expose the filling. Cross the dough ropes over each other, repeating the twisting until you have a long, twisted dough.
Coil half the rope up like a snake, stopping when you reach halfway. Then, coil the second half of the rope in the opposite direction. Carefully transfer to a parchment-lined baking sheet. Cover and let rise in a warm place for about 45 minutes or until almost doubled. While the dough rises, preheat the oven to 350°F.
Bake on the middle rack for 30 - 35 minutes, or until golden and the internal temperature is about 200°F - 210°F. To prevent over-browning, tent loaf with foil for the last 10 minutes.  Transfer to a rack and brush the top of the loaf with butter.
YIELD: 1 large loaf, 24 servings.
NUTRITION INFORMATION PER SERVING (1 SLICE, 42 g): 120 calories, 4g total fat, 2g saturated fat, 0g trans fat, 30mg cholesterol, 115mg sodium, 17g total carbohydrate, 1g dietary fiber, 2g total sugars, 4g protein, 6mcg folate, 1mg vitamin C, 0mg iron.
---