Sweet Potato – Cranberry and Bacon Twists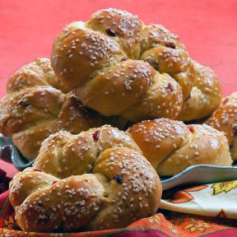 Ingredients
1 (1/4 ounce) package active dry yeast
1 cup warm sweet potato water (100° - 110°F)
1/4 teaspoon granulated sugar
4 1/2 - 5 cups all-purpose flour, divided
1 1/2 cups white whole wheat flour, divided
3 large eggs, beaten
1 1/2 cups cooked, mashed sweet potatoes, cooled
1/3 cup vegetable oil
1/3 cup honey
2 teaspoons salt
1 1/4 cups dried cranberries
1/2 cup finely chopped cooked bacon*
Topping:
1 large egg beaten with 1 tablespoon water
2 tablespoons sesame seeds
*To save time use ready to serve, fully cooked, real bacon bits.
Directions
In mixer bowl, whisk together yeast, sweet potato water and sugar; let stand 10 minutes. 
Beat in 1 cup all-purpose flour and 1/2 cup white whole wheat flour on medium speed for 1 minute. Cover; let rise 30 to 40 minutes, or until bubbly. 
Beat together eggs, sweet potatoes, oil, honey, salt and cranberries. Beat into yeast mixture; add bacon. Beat in the remaining white whole wheat flour. Stir in the remaining all-purpose flour to make slightly sticky dough.
Knead dough 8 to 10 minutes. Place in oiled bowl; cover, let rise until double.
Punch down dough and divide into 32 equal portions. Roll into 8-inch ropes. Using 2 ropes, pinch ends together and twist. Form a ring and pinch ends together. 
Place on two parchment-lined baking sheets. Cover; let rolls rise until double.
Brush rolls with egg wash, sprinkle with sesame seeds. Bake in preheated 375°F oven for 18 to 20 minutes, or until golden brown. 
 
Makes 16 large rolls.
Nutrition information per serving:
One roll provides approximately 321 calories; 8 g protein; 56 g carbohydrate; 3 g dietary fiber; 7 g fat (1 g saturated); 48 mg cholesterol; 59 mcg folate; 2 mg iron and 313 mg sodium.
---