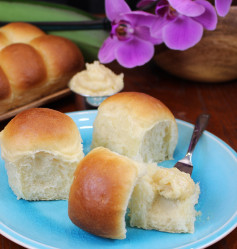 These popular rolls may be served for any meal or used a sandwich base. This recipe makes enough to share or freeze some for later.
INGREDIENTS
2 (¼ ounce) packages active dry yeast
½ cup warm water (110°F – 115°F)
½ cup pineapple juice, room temperature
5 – 5 ¼ cups bread flour, divided
¼ cup instant corn masa flour
2 tablespoons vital wheat gluten, optional
2 tablespoons granulated sugar
3 large eggs, beaten
1/3 cup nonfat dry milk powder
2/3 cup agave syrup or honey
1 teaspoon fine sea salt
½ cup coconut oil  
Whipped Agave Butter, optional
½ cup (1 stick) unsalted butter, room temperature
¼ cup agave syrup or honey
DIRECTIONS
In a mixer bowl, dissolve yeast in warm water; let proof 5 – 10 minutes.
Stir in pineapple juice, 1 cup bread flour, corn flour, gluten and sugar. Beat 2 minutes to combine. Cover with plastic wrap and let sit for 30 – 60 minutes.
Stir in eggs, nonfat dry milk, agave syrup, salt and coconut oil.  Add enough remaining bread flour to make a soft dough. 
Knead 8 to 10 minutes with dough hook or by hand. Place in greased bowl; turn to coat. Cover; let rise until doubled, about 1 – 1 ½ hours.  Punch dough down.
Divide into equal portions and shape into uniform rolls. Place rolls in a greased 15" x 10" pan or two 8 or 9-inch pans. Cover; let rise until doubled.
Preheated oven to 375°F. Bake rolls 17 – 20 minutes until golden and internal temperature of a roll in center of the pan registers 190°F – 195°F. If needed, tent rolls with aluminum foil during the last part of baking to prevent over-browning. 
If desired, brush rolls lightly with melted butter. After 5 minutes, remove rolls from pan and cool on wire rack. Serve with Whipped Agave Butter.
For Whipped Agave Butter: In electric mixer bowl, with wire attachment, whip together butter and agave syrup until light and fluffy.
Yield: 32 – 35 rolls
Note: Agave syrup is an all-natural sweetener made from the juice of the agave plant. 
NUTRITION INFORMATION PER SERVING (1 ROLL, 43g): 130 calories, 35 calories from fat, 4g total fat, 3g saturated fat, 0g trans fat, 15mg cholesterol, 80mg sodium, 21g total carbohydrate, 1g dietary fiber, 6g sugars, 4g protein, 38mcg folate, 1mg vitamin C, 1mg iron.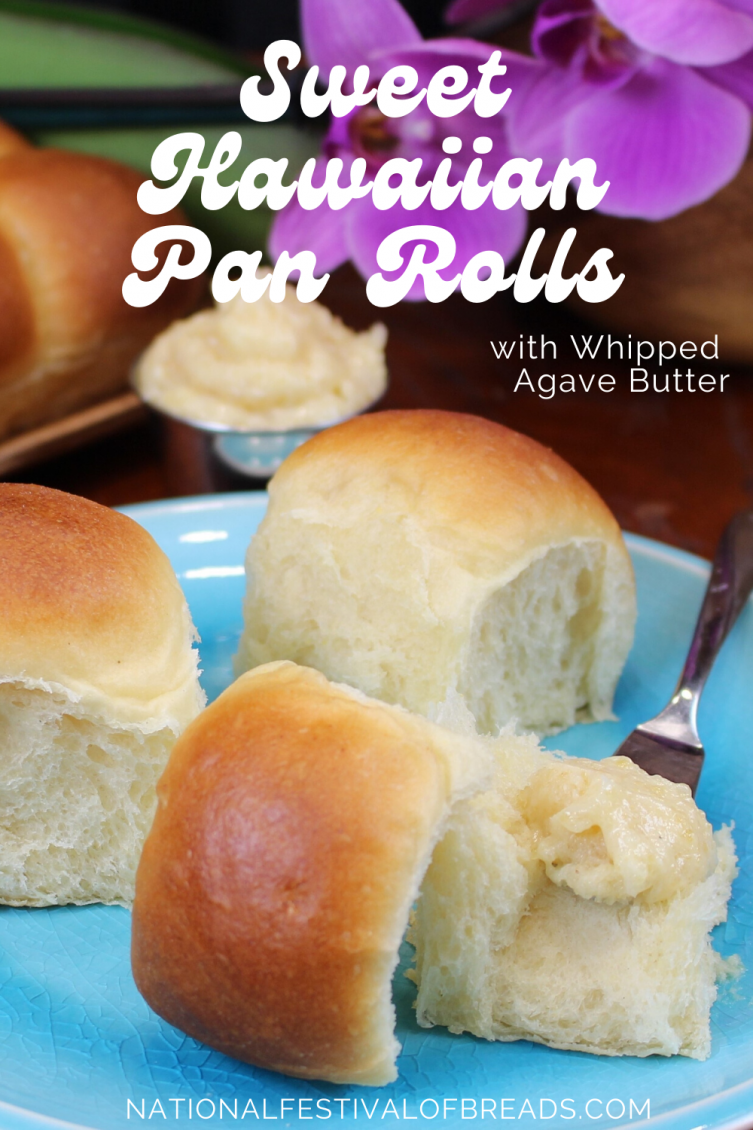 ---