Sunflower and Wheat Bread Sculpture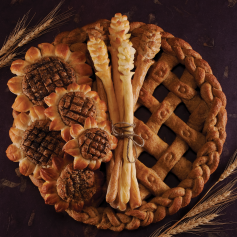 Jane Fry, Elk Falls, Kansas
Ingredients
Rye Sculpture Dough:
2 tablespoons active dry yeast
2 tablespoons molasses
2 cups warm water (100° - 110°F)
2 tablespoons vegetable oil
6 tablespoons apple cider vinegar
2 teaspoons salt
2 cups medium rye flour
4 - 4 1/2 cups bread flour 
Egg wash: 1 egg plus 1 tablespoon water, beaten
1 tablespoon poppy seeds

White Sculpture Dough:
2 teaspoons active dry yeast
3/4 cup warm water (100° - 110°F);
(80° - 85°F) when using bread machine
3 tablespoons granulated sugar
1 large egg
1/4 cup nonfat dry milk
1 teaspoon salt
1 tablespoon vegetable oil
2 1/2 - 3 1/4 cups bread flour
Directions
Rye dough: In mixing bowl, stir yeast and molasses into warm water; let stand 10 minutes. Stir in oil, vinegar, salt and rye flour. Gradually add enough bread flour so it handles easily. Knead 10 minutes. Cover, let rise 1 hour.
White dough: In mixing bowl, dissolve yeast in water. Mix in remaining ingredients, adding enough flour to make a workable dough. Knead 8 minutes. OR: add ingredients to bread machine in the order given. Program on DOUGH cycle.  
Punch down rye dough and reserve 11 ounces for the 5 sunflower heads; cover with plastic wrap. On lightly floured surface, roll out the remainder of the dough to approximately 3/8-inch thick, forming a long rectangle 16 inches wide. Using pizza cutter, cut the rye dough into 1-inch strips.  Cover a 12 or 14-inch pizza pan with foil. Weave strips on pan, leaving 1 inch apart.
Trim strips to 3/4-inch from edge of pan. Make a "button impression" by pressing the end of a funnel at the intersections. Roll remaining dough into a long piece; cut three 1/2-inch wide strips and braid together. Lay braid on top covering the edges of the woven strips. Brush with egg wash. Let rise 30 to 40 minutes and bake in preheated 350°F oven for 35 minutes, or until golden brown.
Divide the remaining 11 ounces of rye dough into 5 balls weighing 4, 3, 2, and two 1-ounce portions. Knead and flatten each ball for the sunflower heads; brush with egg wash. With sharp knife cut top with cross hatch lines about 1/2-inch apart. Sprinkle with poppy seeds and place on parchment- lined baking sheets. 
Prepare petals. Roll out approximately half of the white dough, cover, let rest 10 minutes.
Using a 2-inch round cutter, cut 6 circles for the 4-ounce sunflower head. Using a pizza cutter, divide each circle in half. Slightly reshape piece to make a petal. Using the back of a paring knife, deeply score the petal lengthwise. Slip 12 petals under the head of the sunflower. Brush with egg wash. Repeat for the 3-ounce sunflower head.
For the 1 and 2 ounce sunflower heads, cut 3 circles and divide into fourths; shape into petals, scoring them lengthwise. Slip 12 petals under each head and brush with the egg wash. Let rise until almost double. Bake in preheated 350°F oven 20 to 35 minutes, or until golden brown.
Re-knead the remaining dough for the stems of wheat. Pinch off 1-ounce portions of dough. Roll the dough repeatedly to get the stems thin, leaving the wheat head end larger. Place on parchment-lined baking sheets. Brush with egg wash; with small sharp scissors snip the top 3 inches, making diagonal snips, to form the head. Bake in preheated 350°F oven 20 to 22 minutes or until golden brown.
 Arrange sunflowers and wheat on top of woven rye circle for a flat sculpture. For a vertical sculpture, attach sunflower heads using toothpicks and tie the wheat stems either together or individually with raffia or jute through the woven background. The sculpture can be propped up or hung using raffia or jute. 
JANE'S TIP:  If the white dough is ready to be used while you are still working with the rye dough, just keep it covered and punch it down until you are ready to shape it. Dough is very patient and forgiving. The pieces may be made over several days, making it an easy sculpture to create. 
---