Stir and Drop Wheat Rolls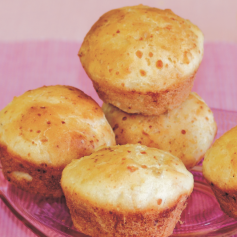 Prep Time: 60 minutes
Bake Time: 15 minutes
Yield: 24
Ingredients
1 package RED STAR® Active Dry Yeast 
1 cup lukewarm water (110-115 degrees F) 
1/4 cup granulated sugar 
1 teaspoon salt 
1 beaten egg 
1/4 cup vegetable oil 
1/2 cup cottage cheese, small curd, room temperature 
2 3/4 - 3 cups bread flour 
1/4 cup rolled wheat flakes or rolled oats
Instructions
In mixing bowl, dissolve yeast in lukewarm water. Add sugar, salt, egg, oil and cottage cheese; mix well. Add 1 1/2 cups flour and beat until smooth. Stir in rolled wheat or oats and enough additional flour to make a soft dough. Blend well. 
Cover; allow to rise in bowl 45 minutes. Grease two standard-size, 2 1/2 x 1 1/4-inch, muffin pans. Stir down batter; fill muffin cups 3/4 full. Cover with plastic wrap lightly coated with nonstick cooking spray. Let rise until almost double. 
Bake in preheated 375 degrees F oven 15 minutes or until golden. Remove from pans and serve or cool on wire rack.
Nutrition Information
Per serving (one roll): 96 cal, 3 g fat, 9 mg chol, 119 mg sodium,  14 g carbo, 1 g fiber, 3 g pro, 33 mcg folate.
---