Speedy Pesto-Garlic Skillet Bread
Tiffany Aaron, Quitman, Arkansas
Ingredients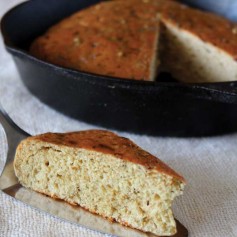 ¾ cup warm water (110°F - 115°F)
1 ½ teaspoons granulated sugar
1 (¼ ounce) package RED STAR® Quick∙Rise™ Yeast
2 tablespoons olive oil
1 teaspoon salt
1 teaspoon Italian seasoning
2 ½ teaspoons finely minced fresh garlic
1 ¼ cups King Arthur® White Whole Wheat Flour
¼ cup fresh shredded Parmesan cheese
¾ - 1 cup King Arthur® Unbleached All-Purpose Flour, divided
PESTO-GARLIC BUTTER TOPPING
2 tablespoons unsalted butter
2 teaspoons basil pesto
¾ teaspoon garlic powder
Directions
In bowl of a stand mixer fitted with dough hook, stir together water, sugar and yeast. Wait 5 - 10 minutes for it to foam (proof). 
Stir in oil, salt, Italian seasoning and garlic. Mix in white whole wheat flour and Parmesan cheese. Gradually add enough all-purpose flour, until dough starts to pull away from sides of bowl. Knead 5 minutes.
Press dough in a greased 10" cast-iron skillet or 9" round baking pan.  Cover; let rise 30 minutes. Preheat oven to 400°F. Bake 20 - 23 minutes until golden brown.
For the topping: Melt butter; stir in pesto and garlic powder. Remove bread from oven and immediately brush with topping. 
Cut in wedges and serve warm with remaining Pesto-Garlic Butter Topping.
Yield: 1 loaf, 10 servings.
Nutrition Information Per Serving  (1 SLICE, 58g): 170 calories, 5g protein, 22g carbohydrates, 3g dietary fiber, 7g fat, 2g saturated fat, 0g trans fat, 8mg cholesterol, 33mcg folate, 290mg sodium, 0mg vitamin C, 1mg iron, 33mg calcium.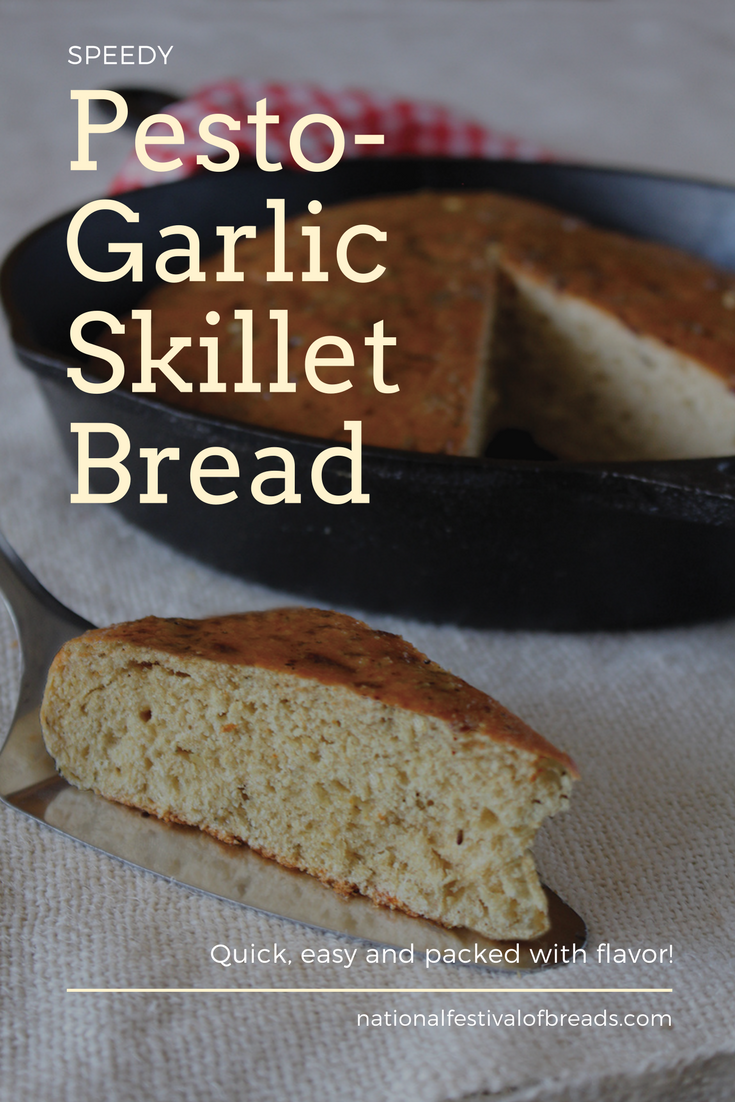 ---