Sparkling Chocolate Bowties
Michele Kusma, Columbus, Ohio
~~~~~~ 2021 National Festival of Breads Adult Division ~~~~~
Honorable Mention: Sweet Breads and Rolls Category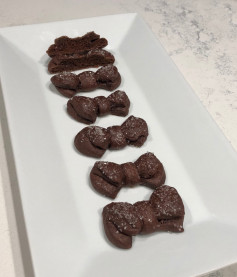 "Dutch process cocoa, mini chocolate chips and sparkling sugar takes this creative roll shape over the top for a special occasion."
Ingredients
Dough
1 (¼ ounce) package RED STAR® 
Quick-Rise™ Yeast
1 cup warm water (110°F - 115°F)
2 tablespoons granulated sugar
¼ cup vegetable oil
¼ cup Dutch-process cocoa
2 ½ - 2 ⅔ cups King Arthur® Unbleached All-Purpose Flour, divided 
1 teaspoon salt
2 ounces cream cheese, softened
½ cup mini semi-sweet chocolate chips
2 tablespoons whole milk
3 - 4 tablespoons sparkling sugar
Directions
Line two large 12" x 18" baking sheets with parchment paper. In the bowl of a stand mixer fitted with dough hook, stir together yeast, warm water and sugar. Wait 5 - 10 minutes for mixture to proof. 
Add the oil, cocoa, 2 ¼ cups flour and salt. Mix on low speed until combined, 1 - 2 minutes. Add cream cheese and mix on low speed until well blended. Scrape sides of bowl as needed. Gradually add remaining flour, 1 tablespoon at a time, to form a soft and sticky dough; dough should not stick to hands. Knead dough 5 - 8 minutes.
Place dough in a lightly greased bowl, turning to completely coat. Cover with plastic wrap and place in a warm, draft-free place until nearly doubled, about 60 minutes. 
Punch down dough and roll about ¼" thick. Using 3" round cutter or drinking glass, cut 26 - 28 circles. Re-roll scraps. 
Press a scant teaspoon of mini chocolate chips onto each circle. 
To form the bowtie shape, use a sharp knife to cut a 1-inch slit into the top of each circle. Then, cut two vertical parallel 1-inch slits, about ½" apart, on the bottom of each round. Fold the circle in half, top to bottom, and seal to the bottom edges, keeping bottom strip free. Turn each side slightly outward to create a bowtie shape. Fold the bottom strip of dough over the center to create the middle "knot" and press under the roll to seal. (For shaping illustrations, visit nationalfestivalofbreads.com)
Place bowties 2" apart on prepared baking sheets. Cover with plastic wrap and place in a warm, draft-free area until puffy, about 30 minutes. Toward the end of the rising time, preheat the oven to 350°F. 
Lightly brush bowties with milk and sprinkle generously with sparkling sugar. Bake 12 - 15 minutes or until internal temperature is about 195°F. Cool slightly on a rack and serve warm.
 
Yield: 26 – 28 rolls.
NUTRITION INFORMATION PER SERVING (1 ROLL, 32g): 90 calories, 35 calories from fat, 
4g total fat, 1g saturated fat, 0g trans fat, 0mg cholesterol, 90mg sodium, 14g total carbohydrate, 1g dietary fiber, 4g sugars, 2g protein, 23mcg folate, 1mg vitamin C, 1mg iron.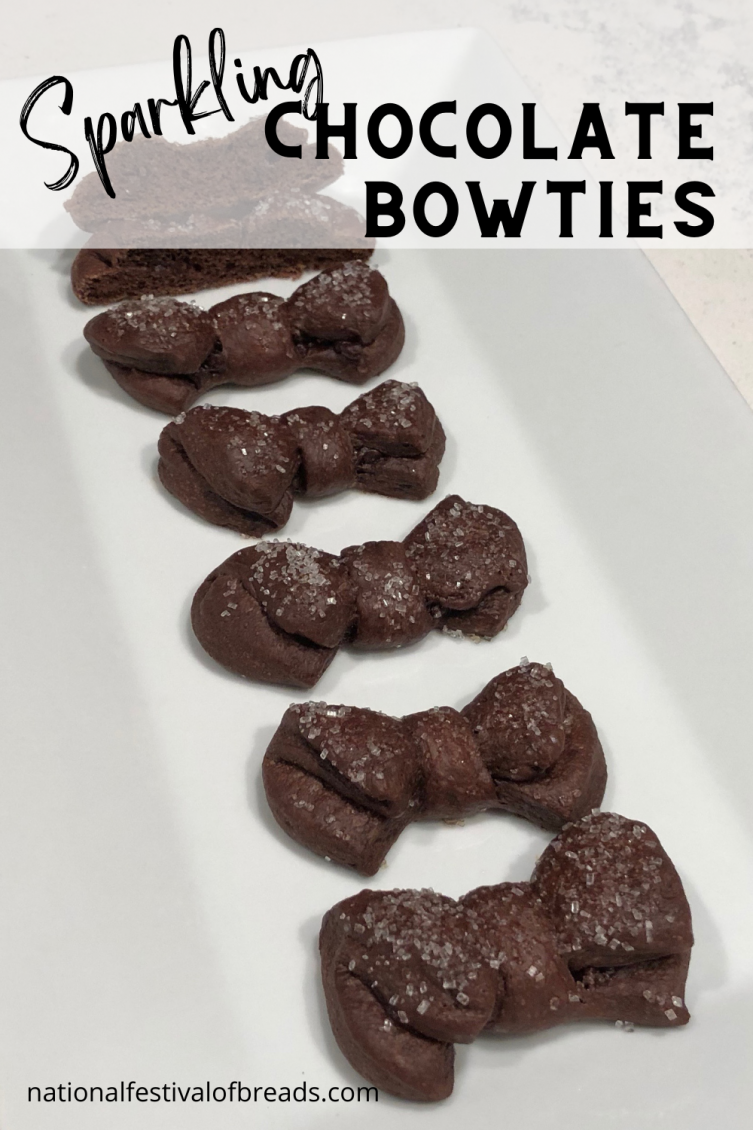 ---