Southern Sweet Potato and Apple-Pecan Tea Ring
Lanie Smith, Rock Hill, South Carolina
~~~~~~ 2021 National Festival of Breads Adult Division ~~~~~
Honorable Mention: Sweet Breads and Rolls Category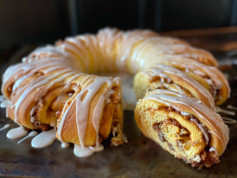 "My recipe inspiration is from a 1969 Kansas Wheat Commission cookbook that used apricot baby food. I incorporated popular freeze-dried apples in the filling for this beautiful tea ring."
Ingredients
Dough
½ cup whole milk (110°F - 115°F)
1 (¼ ounce) package RED STAR® 
Quick-Rise™ Yeast
¼ cup granulated sugar
1 large egg, room temperature
2 (4-ounce) containers sweet potato baby food, divided 
3 tablespoons vegetable shortening
1 teaspoon salt
2 ¾ - 3 cups sifted KING ARTHUR® Unbleached All-Purpose Flour 
Filling
1 cup (1-ounce) unsweetened freeze-dried apple fruit crisps
⅓ cup packed light brown sugar
1 teaspoon ground cinnamon
½ teaspoon fresh grated nutmeg
1 cup chopped pecans
Glaze
1 cup confectioners' sugar
¼ teaspoon ground cinnamon
1 ½ - 2 tablespoons whole milk
Directions
In bowl of stand mixer fitted with paddle, combine milk and yeast. Stir in sugar, egg, 1 container of baby food, shortening and salt. 
Gradually add enough flour to form a soft dough. Exchange paddle for dough hook. Knead dough until smooth and elastic, 8 - 10 minutes. 
Transfer dough to a large, greased bowl and turn to coat. Cover; let rise until doubled, about 1 hour. 
For filling: In medium bowl, break apples into ⅛- to ¼-inch pieces. Pour remaining container of baby food over apple pieces, coating well. 
In medium bowl, combine brown sugar, cinnamon, nutmeg and pecans.
Punch down dough and roll into 18" x 10" rectangle.
Spread apple and sweet potato mixture on dough leaving 1" strip at the top uncovered where the roll will seal. 
Sprinkle pecan mixture on top of apple and sweet potato mixture and cover the entire rectangle except for the 1" strip at the top. Roll dough from the bottom up and seal edge.
Form into a ring and connect the ends, pinching to seal. On a large parchment-lined baking sheet shape into an even circle.
Using a sharp knife or kitchen shears, cut from outside edge two-thirds of the way toward center of ring at 2" intervals. Gently pull and tilt out the slices to reveal a glimpse of the centers. Cover; let rise again in warm place until doubled, 35 - 40 minutes. 
While dough is rising, preheat oven to 350°F. Bake 20 - 25 minutes or until golden and internal temperature registers 200°F - 205°F. Remove to rack and let cool.
For glaze: In medium bowl, whisk together confectioners' sugar, cinnamon and milk. Drizzle glaze over tea ring.
Yield: 15 servings.
NUTRITION INFORMATION PER SERVING (1 SLICE, 81g ): 260 calories, 80 calories from fat, 9g total fat, 1.5g saturated fat, 0g trans fat, 15mg cholesterol,180mg sodium, 42g total carbohydrate, 2g dietary fiber, 19g sugars, 4g protein, 51mcg folate, 1mg vitamin C, 2mg iron.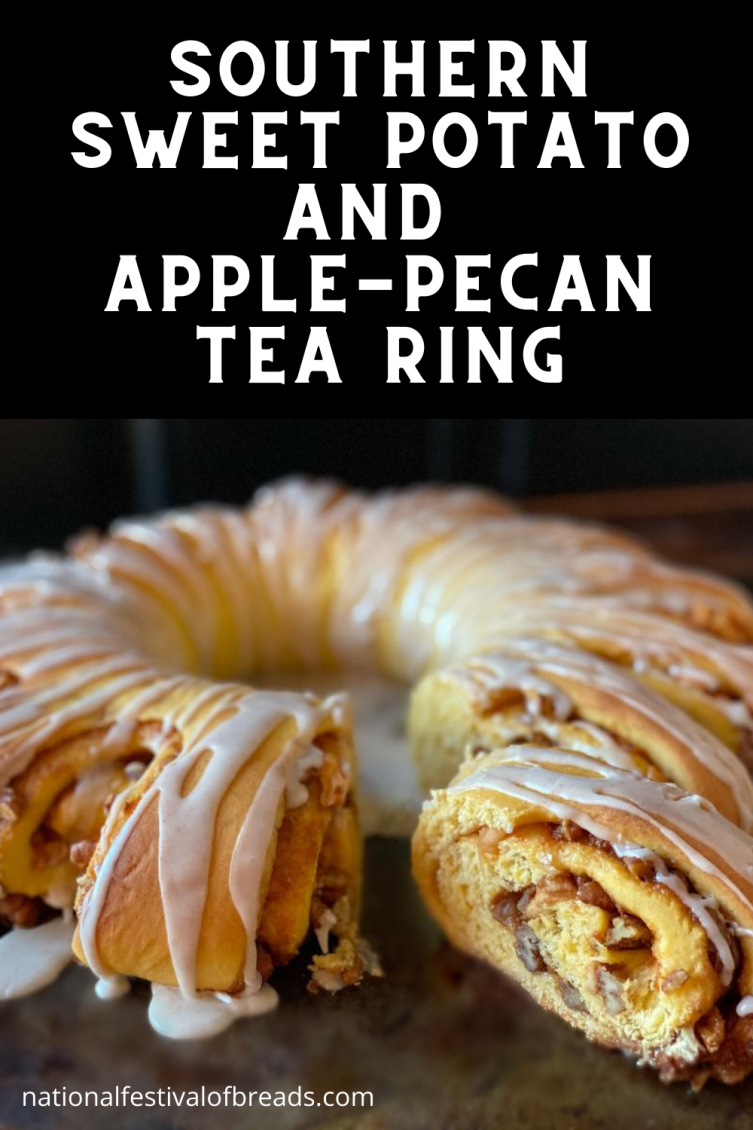 ---