Savory Thai Peanut Sauce Rolls
Anakkarat Barth, Long Beach, California
~~~~~~ 2021 National Festival of Breads Champion ~~~~~ 
Adult Division Savory Rolls Winner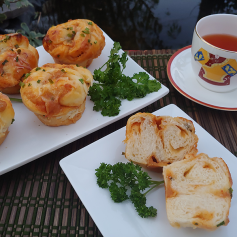 Special Award: People's Choice Award Winner
"Ever since I moved to the United States 25 years ago, I have looked for ways to integrate Thai ingredients and techniques into my cooking and baking. I continue to experiment on how different flavors come together and this recipe is one of them."
Ingredients
Thai Peanut Sauce
1 cup unsweetened coconut milk
2 tablespoons Thai red curry paste*
½ cup unsweetened creamy peanut butter
1 teaspoon salt
¼ cup granulated sugar
1 tablespoon white vinegar
*Thai red curry paste may be found in grocery stores, superstores, Asian food markets and mail order. 
Tangzhong
½ cup whole milk, room temperature
3 tablespoons KING ARTHUR® Unbleached Bread Flour
Dough
1 large egg
½ cup whole milk, room temperature
¼ cup (½ stick) unsalted butter, softened
2 teaspoons RED STAR® Active Dry Yeast
2 ½ cups KING ARTHUR® Unbleached Bread Flour
¼ cup granulated sugar
1 teaspoon salt
Topping and Egg Wash
1 cup finely shredded mozzarella cheese, divided 
3 - 4 tablespoons finely chopped scallions or green onions, divided
1 large egg
⅛ teaspoon salt 
Directions
For Thai Peanut Sauce: In saucepan, heat ingredients to a gentle boil, whisking constantly, over medium heat. Reduce heat to low and simmer sauce 3 - 5 minutes whisking to prevent scorching. Remove from heat; let cool and refrigerate until needed for easier spreading.
For Tangzhong: In small saucepan, whisk milk and flour until no lumps remain. Cook over low heat, whisking constantly, 1 - 3 minutes until thickened and paste-like. Remove from heat and let cool to room temperature.
In bowl of stand mixer fitted with dough hook, combine Tangzhong, egg, milk and butter. Stir in yeast, flour, sugar and salt; mix on low speed 1 minute. Increase speed to medium, knead 11 - 12 minutes, or until smooth and elastic. 
Transfer dough to greased bowl. Cover; let rise until almost doubled, about 75 - 90 minutes. 
Deflate dough; divide into 12 equal pieces and shape into balls. Roll each ball into a 4" x 6" rectangle. Spread 1 tablespoon Thai peanut sauce on dough almost to edges; sprinkle with 1 tablespoon mozzarella and ¼ teaspoon scallions. (Remaining mozzarella and scallions will be used for topping.) Starting from long side, roll into a log, sealing the seam. With seam-side down, cut log in half lengthwise, leaving ¼" uncut at one end. With cut-sides up, twist together. Shape into a circle; pinch ends to seal. 
Place rolls in well-greased standard 12-cup muffin pan. Cover; let rise 35 - 40 minutes or until puffy.
Near the end of the rise, preheat oven to 350°F. In small bowl, whisk egg and salt; brush on top of rolls. Sprinkle on remaining mozzarella and scallions. 
Bake 20 - 23 minutes, or until golden and internal temperature registers 195°F - 200°F. Loosen edges of rolls with knife and transfer to rack to cool. 
Note from Anakkarat: Remaining ½ cup sauce may be used as a dip or accompaniment for dishes such as grilled vegetables, meat or use instead of plain peanut butter on PB&J sandwiches. Sauce will be good in the refrigerator for up to 1 week. 
Yield: 12 Rolls
NUTRITION INFORMATION PER SERVING (1 ROLL, 116g): 340 calories, 160 calories from fat, 17g total fat, 9g saturated fat, 0g trans fat, 50mg cholesterol, 590mg sodium, 35g total carbohydrate, 2g dietary fiber, 10g sugars, 11g protein, 79mcg folate, 1mg vitamin C, 3mg iron.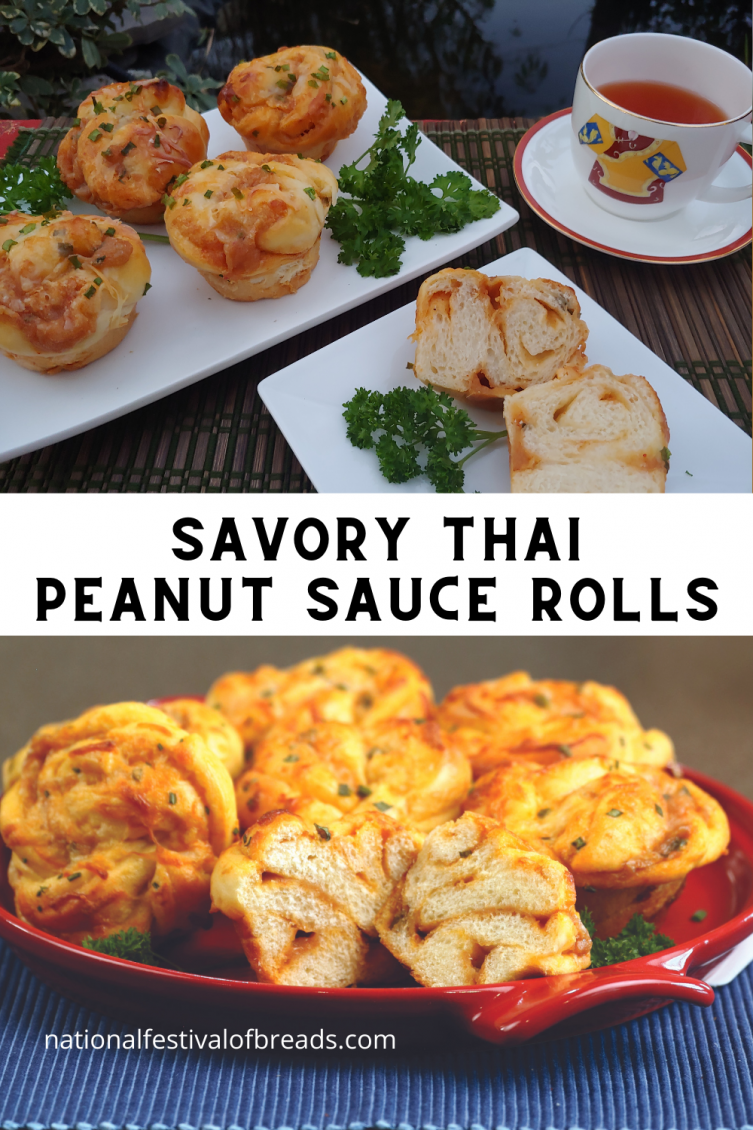 ---