Savory Sprouted Wheat and Wild Rice Rolls
"I love the ease of refrigerated yeast dough; the long, slow, cool rise develops flavor and also makes the dough easy to handle. I created this recipe thirty years ago and have adapted it to include my new favorite obsession: sprouted wheat flour, resulting in a tender, savory roll with a great 'chew' and exceptional flavor." — Patrice Hurd, Bemidji, Minnesota
2017 National Festival of Breads
Special Award: Best Recipe Using King Arthur® Sprouted Wheat Flour
Sponsored by King Arthur Flour
Ingredients
Dough 
1 1/3 cups cooked authentic hand harvested wild rice*
¾ cup warm water (110°F - 115°F)
1 (¼ ounce) package RED STAR® Active Dry Yeast
½ teaspoon granulated sugar 
3 tablespoons honey
1 large egg
3 tablespoons unsalted butter, softened
1 tablespoon vital wheat gluten
1 teaspoon dried minced onion
2 tablespoons instant nonfat dry milk
2 tablespoons instant potato flakes
1 teaspoon fine sea salt
1 ½ cups King Arthur® 100% Whole Grain Sprouted Wheat Flour
1 – 1 ¼ cups King Arthur® Unbleached Bread Flour 
Topping
1 large egg
2 teaspoons water
1 teaspoon California style garlic salt 
with parsley
¼ cup freshly grated Asiago cheese 
Directions  
For the cooked rice: Rinse ¾ cup rice. Follow package cooking instructions. Test for doneness at the minimum cooking time; drain and cool to room temperature. Pulse a few times in a food processor to slightly break grains.
In the bowl of a stand mixer fitted with paddle, place warm water, yeast, and sugar. Wait 5 – 10 minutes for mixture to foam (proof). 
Stir in honey, egg, butter, gluten, onion, dry milk, potato flakes, salt, and sprouted wheat flour; mix on medium speed 2 minutes. 
Exchange paddle for dough hook and blend in wild rice, scraping side and bottom of the bowl.  Gradually add enough of the bread flour to form a very soft dough. Knead 5 minutes on medium-low speed. Grease dough and place in greased bowl; cover tightly with plastic wrap and refrigerate overnight.
The next day, divide the dough into 16 pieces; roll each piece into a 12" rope. Fold rope in half with the rounded arch farthest away from you. Hold the rounded arch with your left hand and use your right hand to twist the right side of the rope over the left 3 times, forming a vertical twisted roll. Pinch bottom ends together, tuck under. 
Place rolls on two parchment-lined baking sheets about 2" apart. Cover loosely with plastic wrap and let rise until doubled, about 1 hour. 
Near the end of the rise, preheat oven to 375°F. Whisk together egg and water; brush on rolls. Mix garlic salt with cheese and sprinkle on top of rolls.
Bake until rolls are lightly browned, about 15 minutes. Remove rolls to a rack and cool.
Yield: 16 rolls.
Nutrition Information Per Serving (1 ROLL, 61g): 140 calories, 30 calories from fat, 3.5g fat, 2g saturated fat, 0g trans fat, 20mg cholesterol, 230mg sodium, 23g total carbohydrates, 2g dietary fiber, 4g sugars, 5g protein, 31mcg folate, 1mg vitamin C, 31mg calcium, 1mg iron.
*Note from Patrice
I use naturally-grown hand harvested wild rice for my baked goods because it remains soft when baked — unlike black cultivated wild rice. Cooked authentic wild rice should be tender, but not mushy or sticky; it's usually done in 15–20 minutes. It doubles (and sometimes triples) when cooked, freezes well and is widely available online.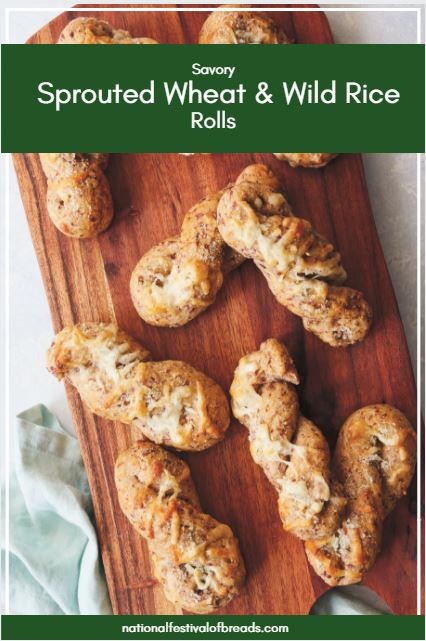 ---