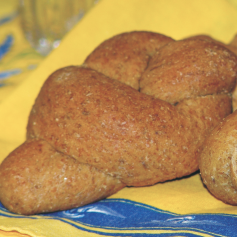 Prep Time: 2 hours
Bake Time: 14 minutes
Yield: 30 rolls
Ingredients
2 packages RED STAR® Active Dry Yeast 
1/2 cup lukewarm water 
(110-115 degrees F) 
1 1/2 cups boiling water 
1/4 cup rolled wheat or rolled oats, dry 
1/3 cup brown sugar 
2 teaspoons salt 
1 teaspoon anise seed 
1/4 cup vegetable shortening 
3 tablespoons molasses 
3 cups bread flour 
1 1/2 tablespoons vital wheat gluten 
2 cups rye flour
Instructions
Dissolve yeast in 1/2 cup lukewarm water; set aside. 
In mixing bowl, pour boiling water over rolled oats, sugar, salt, anise seed, shortening and molasses. Cool to lukewarm (110 degrees F). Stir in dissolved yeast. 
Mix in 2 cups bread flour and wheat gluten; beat until batter is smooth, about 2 minutes. Gradually add rye flour. Cover; allow dough to rest 10 minutes. 
Turn onto a floured board and knead in as much of the remaining flour to make soft dough. Knead 8 to 10 minutes. Place dough in a greased bowl; turn to grease top. Cover; let rise until double, 50 to 60 minutes. 
Punch down dough and let rise 30 minutes longer. Shape into desired shape or knots. To shape knots, divide dough into 36 equal pieces. Shape each into a strip about 9 inches long by rolling between hands. Tie in loose knot, being careful not to stretch dough. 
Place on greased cookie sheets. Cover; let rise until double. Bake in preheated 375 degrees F oven 14 to 15 minutes. Cool on wire rack.
Nutrition Information
Per serving (one roll): 90 cal, 2 g fat, 0 mg chol, 132 mg sodium, 16 g carbo, 1 g fiber, 2 g pro, 28 mcg folate.
Kansas Wheat Commission Test Kitchen Note: This dough can be used for any shape or size roll.
---