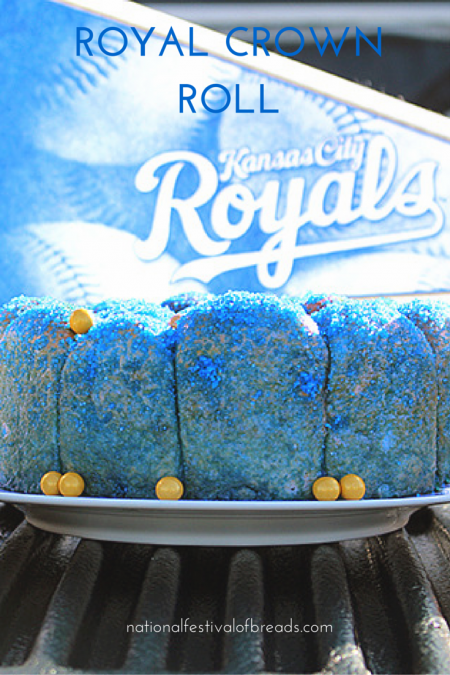 Are you planning a Royals party?  Boy, do we have a recipe for you...

These easy rolls from our Kansas Wheat Commission Test Kitchen would be an simple, but tasty, recipe to make in royal colors.

Make the dough yourself or to save time by using 18 defrosted frozen roll dough.

Take the Crown, Royals! And prepare to make this a Blue October to remember!

Dough:
2 (1/4 ounce) packages fast rising yeast
½ cup lukewarm water (110-115°F)
¾ cup lukewarm 2% milk (95°F)
3 tablespoons granulated sugar
3 tablespoons butter
1 ½ teaspoons salt
1 large egg, beaten
3 1/4 – 3 1/2 cups bread flour
Topping:                                                                                                                                           
3-4 tablespoons butter, melted
2 (2.25 oz) containers Blue Sugar Crystals*
Candy Coated Chocolate Flavored Candy (Gold Sixlets), optional
Note: Blue Sugar Crystals and Gold Sixlets purchased at Wal-Mart Stores, Inc
*How to make blue colored sugar: Put ½ cup granulated sugar in a resealable plastic bag. Add 5 drops blue food color to sugar in bag. Seal bag. Squeeze sugar in bag until it become colored. Store sugar in sealed bag. Makes ½ cup colored sugar.
Directions:       
In mixing bowl, dissolve yeast in water. Add milk, sugar, shortening, salt and egg.
            Stir in 2 cups bread flour; beat 2 minutes. Gradually add enough of the remaining flour to form a soft                           dough.
Knead by hand or with dough hook 10 minutes. Cover; let rise until double.
Punch down dough and divide into 18 equal pieces. Form each piece into a uniform roll.
Coat with nonstick cooking spray the bottom and sides of a tube cake pan. Roll each roll in melted butter and blue sugar crystals.
             Arrange twelve rolls on the outside and six rolls in the middle of the pan. Cover; let rise until double.
Bake in preheated 350°F oven 40 minutes or until done. Tent top of rolls with foil if necessary to prevent overbrowning.
Cool in pan 30 minutes before removing. Remove from pan placing upright.
Place gold sixlets on top in the space between rolls to decorate.
Makes 18 rolls.
One roll provides approximately: 490 calories, 15 g protein, 92 g carbohydrate,  3 g dietary fiber, 6 g fat (3 g saturated), 21 mg cholesterol, 218 mcg folate, 5mg iron, 733 mg sodium
---