Red Velvet Cinnamon Rolls with a Twist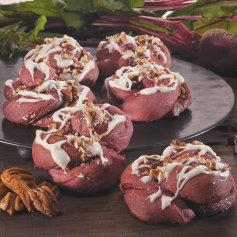 National Festival of Breads Finalist
Marilyn Blankschien, Clintonville, WI
Prep Time: 3 hours, 45 minutes
Bake Time: 12 minutes
Yield: Makes 16 rolls
Ingredients
DOUGH
(Made in 1 to 1 ½-pound capacity bread machine) 
½ cup puréed beets (canned or cooked fresh*) 
½ cup water (80° - 85°F) 
1 tablespoon butter, softened 
1 large egg 
¾ teaspoon salt 
1 cup King Arthur White Whole Wheat Flour 
1 ¾ cups King Arthur Unbleached All-Purpose Flour 
2 tablespoons unsweetened baking cocoa 
3 tablespoons granulated sugar 
1 (1/4 ounce) package active dry yeast 
FILLING 
1 tablespoon butter, softened 
3 tablespoons granulated sugar 
1 ½ teaspoons ground cinnamon 
1/3 cup milk chocolate or semisweet chocolate chips 
ICING 
2 ounces cream cheese, softened 
2 tablespoons butter, softened 
1 cup sifted confectioners' sugar 
1 teaspoon vanilla extract 
2- 3 teaspoons low-fat milk 
¼ cup chopped, toasted pecans 
*Freshly cooked beets give a brighter red color; allow 45 minutes to 1 hour to cook. 
Instructions
Thoroughly drain beets in a colander; puree in food processor. 
Have all ingredients at room temperature (77° to 85°F). Place dough ingredients in bread machine pan in the order suggested by manufacturer. Set bread machine for DOUGH cycle. After 5 minutes, check dough consistency. Dough should form a soft ball around paddle. If necessary, add a teaspoon of flour or water to the dough until the right consistency is reached. 
When dough cycle is complete, place dough on lightly floured work surface and roll into a 10 x 16-inch rectangle. Brush dough with 1 tablespoon butter, keeping ½-inch away from 16-inch sides. 
Combine sugar and cinnamon; sprinkle lengthwise over half of dough. Sprinkle and press chocolate chips over sugar-cinnamon mixture. Fold other half of dough over filling, forming a 5 x 16-inch rectangle. Press together and seal 16-inch edge. 
Cut dough into sixteen 1 x 5-inch strips. Twist each strip and form into a coil, pinching end underneath roll to seal. Place 2 inches apart on parchment-lined baking sheets. Cover; let rise until almost double, about 45 to 55 minutes. 
Bake in preheated 375°F oven 10 to 12 minutes. Remove rolls to rack. 
In a medium bowl, stir together all icing ingredients except nuts, beating in enough milk to make drizzling consistency. Stir until smooth and well blended. Drizzle icing on cooled rolls; sprinkle on nuts. 
Nutrition Information
One roll provides approximately 207 calories; 4 g protein; 32 g carbohydrates; 2 g dietary fiber; 7 g fat (3 g saturated); 26 mg cholesterol; 19 mcg folate; 1 mg iron and 133 mg sodium.
Kansas Wheat Commission Test Kitchen Note: To prepare dough without bread machine: In large mixing bowl, dissolve yeast in warm water (100° to 110°F). Stir in remaining dough ingredients; mix 2 minutes. With dough hook or by hand, knead 8 to 10 minutes until dough is smooth and elastic. Place dough in greased bowl. Cover; let rise until double. Punch down dough. Continue with Step 3.
Baker's Bio
Marilyn has been interested in baking for as long as she can remember. Her mother was an avid baker from whom Marilyn gained a lot of baking skills. In her hometown of Clintonvile, Wisconsin, Marilyn enjoys gardening, caring for her small herd of dairy goats, taking long walks in the woods, and creating new recipes. Her most requested baked good is her dinner rolls. Marilyn describes her perfect day as a day when the sun is out and she has time to enjoy nature.
---