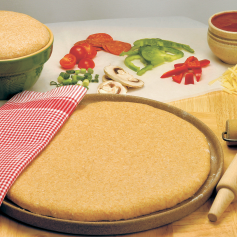 Enjoy a whole grain pizza crust with your favorite toppings.
Ingredients
Dough
2 cups whole wheat flour
1 package RED STAR® QUICK-RISE™ Yeast
¾ teaspoon salt
1 cup hot water (120-130°F)
1 tablespoon vegetable oil
1 tablespoon honey or granulated sugar
Sauce
1 (15-ounce) can tomato sauce
1 teaspoon instant minced onion
½ teaspoon oregano leaves
¼ teaspoon basil
¼ teaspoon garlic powder
⅛ teaspoon black pepper
Toppings
Favorite pizza toppings
Instructions
To prepare pizza dough, stir whole wheat flour; lightly spoon into a measuring cup and level flour.
In large mixing bowl, combine whole wheat flour, yeast, and salt. Blend in water, oil, and honey or sugar. Stir by hand vigorously until all ingredients are well mixed; about 3 minutes.
Cover with plastic wrap and let rise 15 minutes.
Place dough in greased 15 x 10 x 1-inch baking pan or 12 to 14-inch pizza pan. Press dough to cover bottom of pan and up sides to form a rim.
In small bowl, mix together tomato sauce, minced onion, oregano, basil, garlic powder, and black pepper. Spread sauce evenly on dough. Top with your favorite pizza toppings.
Bake in preheated 425°F oven 15 to 20 minutes or until crust is golden brown and toppings are done.
Makes 8 servings.
Nutrition information per serving (one serving of crust and sauce only, no toppings): 144 cal, 2 g fat, 0 mg chol, 543 mg sodium, 28 g carbo, 5 g fiber, 5 g pro, 39 mcg folate.
---