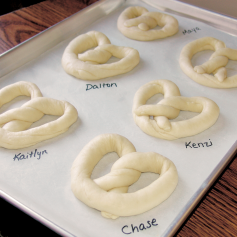 A popular hands-on activity with children's groups in the KWC Test Kitchen. The recipe suggests the form, but the baker must do the shaping to create the particular work of art. 
Ingredients
1 ½ cups lukewarm water (110-115°F)
2 packages RED STAR® Active Dry Yeast
¼ cup granulated sugar
1 ¾ teaspoons salt
½ cup vegetable oil
5 - 5 ¼ cups all-purpose or bread flour
1 egg white
1 tablespoon cold water
Sesame or poppy seeds (optional)
Instructions
Measure water into large bowl. Sprinkle in yeast; stir until dissolved. Add sugar, salt, oil, and 4 cups flour; beat until smooth. Gradually add enough remaining flour to make a soft dough.
Knead dough 8 to 10 minutes. Cover dough; let rest 30 minutes. Divide dough into 24 pieces; cover, let rest 5 minutes. Roll each into a uniform 18-inch rope. Shape into a pretzel by making a circle, bringing the ends together, twisting once and then pressing ends onto the bottom curve of the circle.
Place on greased or parchment-lined baking sheets. Beat together egg white and cold water; brush pretzels with mixture. If desired, sprinkle on seeds.
Bake in preheated 425°F oven 12 to 15 minutes, or until golden. Remove pretzels from baking sheets; cool on wire rack.
Makes 24 pretzels.
Notes
Nutrition information per serving (one pretzel): 146 cal, 5 g fat, 0 mg chol, 176 mg sodium, 22 g carbo, 1 g fiber, 3 g pro, 54 mcg folate.
---