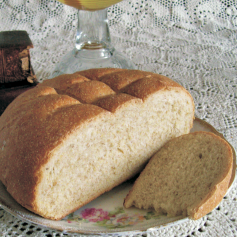 This popular recipe was printed in the Kansas Wheat Commission's 30th Anniversary Recipe book in 1987. It was also selected to appear in the 2005 Kansas Getaway Guide.
Ingredients
½ cup yellow cornmeal
¼ cup brown sugar
2 teaspoons salt
¼ cup vegetable oil
1 cup boiling water
2 packages RED STAR® Active Dry Yeast
½ cup lukewarm water (110-115°F)
1 cup cool water
1 cup whole wheat flour
½ cup rye flour
4 - 4 ½ cups bread flour
Yellow cornmeal
Instructions
In a large mixing bowl, combine cornmeal, brown sugar, salt, and oil with 1 cup boiling water. Dissolve yeast in ½ cup lukewarm water. Mix cool water into cornmeal mixture; stir in yeast. Beat in whole wheat and rye flours, mixing well. Gradually stir in enough bread flour to make a moderately soft dough. 
Turn dough onto lightly floured surface and knead until smooth and elastic, using only enough additional flour to handle the dough. Knead dough 10 to 12 minutes.
Place dough in a greased bowl, turning to grease top. Cover; let rise in warm (90°F) place until double, about 1 hour. Punch dough down and divide into 2 pieces.
Shape each piece into round loaves. Place in greased 9-inch pie plates or cookie sheets that have been sprinkled with additional cornmeal. Cover; let rise until almost double.
With a very sharp knife, gently make 4 slashes in the top of each loaf in a tick-tack-toe pattern; only about ⅛ to ¼-inch deep.
Bake in preheated 375°F oven 30 to 35 minutes, or until golden and loaf sounds hollow when tapped. Remove from pans after 5 minutes and cool on rack. 
Makes 2 loaves, 20 slices each
Nutrition information per serving (one slice): 88 cal, 2 g fat, 0 mg chol, 118 mg sodium, 16 g carbo, 1 g fiber, 2 g pro, 31 mcg folate.
---