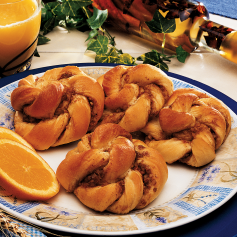 KWC Spokesperson, Christy Wagner, Manhattan, and her wonderful Pecan Twists recipe were featured in the April 1994 issue of Midwest Living magazine.
Ingredients
Dough
2 packages RED STAR® Active Dry Yeast
½ cup lukewarm water (110-115°F) 
1 cup low-fat milk, warmed (110°F) 
6 tablespoons margarine, softened 
½ cup granulated sugar 
½ teaspoon salt 
2 beaten eggs
5 ½ - 6 cups bread flour 
Filling
½ cup packed brown sugar 
⅓ cup sifted confectioners' sugar 
1 teaspoon ground cinnamon 
⅔ cup chopped pecans 
¼ cup margarine, melted
Instructions
Dissolve yeast in water. In large bowl, combine milk, margarine, sugar, salt, eggs, and yeast. Stir in 3 cups of the flour. Gradually add enough remaining flour to make a soft dough. Knead 10 to 12 minutes by hand or with dough hook. Place dough in a lightly greased bowl; turn to grease top. Cover; let rise in a warm place until double. 
Punch down dough and divide into four equal pieces. Cover, let rest 10 minutes. 
For filling, stir together brown sugar, confectioners' sugar, cinnamon, and pecans. Roll two pieces of dough into 12 x 9-inch rectangles. Brush one rectangle with half of the melted margarine; sprinkle with half of the filling. Place second rectangle on top of first. Seal edges. Cut crosswise into 1-inch strips. 
Twist each strip a few times. Starting with one end, which becomes the center, wrap dough around in a swirling motion, continuing to twist as the dough is wrapped. Tuck end under roll. Place on greased baking sheet. Repeat with remaining dough. Cover; let rise in a warm place until double. 
Bake in preheated 375°F oven 13 to 15 minutes. If desired, glaze with 1 ½ cups sifted confectioners' sugar, 1 tablespoon melted margarine, 1 teaspoon vanilla, and 2 tablespoons milk.
Makes 24 rolls.
Nutrition information per serving (one unglazed roll): 229 cal, 8 g fat, 19 mg chol, 108 mg sodium, 34 g carbo, 1 g fiber, 5 g pro, 65 mcg folate.
---