Overnight Sunshine Pinwheels
Denise Pounds, Hutchinson, Kansas
Ingredients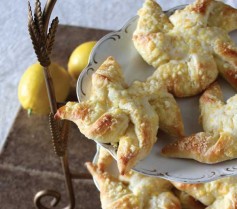 1 cup (2 sticks) unsalted butter, plus 2 tablespoons soft unsalted butter
1 (¼ ounce) package RED STAR® Platinum Superior Baking Yeast
¾ cup warm water (110°F - 115°F)
¼ cup granulated sugar
¼ cup instant nonfat dry milk
2 teaspoons salt
5 ¼ - 5 ½ cups King Arthur® Unbleached Bread Flour, divided
6 large eggs, beaten plus 1 egg for egg wash
1 tablespoon water
LEMON FILLING
7 ounces sweetened condensed milk
1 tablespoon finely grated lemon zest 
¼ cup fresh lemon juice
SUNSHINE STREUSEL
¼ cup King Arthur® Unbleached Bread Flour
½ cup granulated sugar
1 tablespoon unsalted butter, melted
1 tablespoon finely grated lemon zest 
1 tablespoon finely grated orange zest 
Directions
KWC Test Kitchen Note: Prepare dough in advance and refrigerate overnight.
For the dough: Place 2 sticks butter in freezer until frozen solid. Whisk together yeast and water and wait 5 - 10 minutes for it to foam (proof). 
In bowl of a stand mixer fitted with paddle attachment, combine sugar, dry milk, salt and 4 cups flour. Add yeast mixture, eggs, and 2 tablespoons soft butter; beat at medium speed 7 minutes. Cover; allow to rise at room temperature until doubled. 
While dough is rising, grate frozen butter on the large holes of a grater. Coat butter with ¼ cup flour. Return to freezer. 
Using spoon, stir frozen butter into dough. Gradually add 1 cup flour, just until incorporated, to form a workable dough. Place in greased sealable bowl and refrigerate overnight. The next day remove dough from refrigerator and deflate.
For the filling: Whisk together condensed milk, lemon zest and lemon juice; mixture will thicken slightly. 
For the streusel: Combine flour, sugar, butter, lemon zest and orange zest, until crumbly. 
To make pinwheels, divide dough in half. On well-floured work surface, roll half of the dough into a 20" x 15" rectangle. Cut into twelve 5" squares. Cut slashes from corners, leaving center intact. Lift every other point in toward the center, pressing the corner into the dough. Place on parchment-lined baking sheets. Repeat with second half of dough. 
Beat the egg with 1 tablespoon water; brush gently on each pinwheel. Spoon filling in centers of squares; sprinkle on streusel. Cover loosely with plastic wrap; let rise until almost doubled. Preheat oven to 400°F.
Bake pinwheels 8 minutes. Rotate baking sheet and bake 1 - 2 more minutes, until golden brown. Transfer pinwheels to rack.
Yield: 24 pinwheels.
Nutrition Information Per Serving (1 PINWHEEL, 86g): 280 calories, 7g protein, 36g carbohydrates, 1g dietary fiber, 12g fat, 7g saturated fat, 0g trans fat, 80mg cholesterol, 76mcg folate, 236mg sodium, 2mg vitamin C, 2mg iron, 55mg calcium.
---