Onion-Topped Guacamole Bread
Ronna Farley, Rockville, Maryland
Ingredients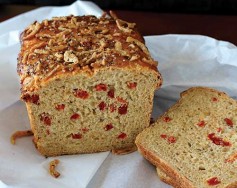 3 cups King Arthur® White Whole Wheat Flour
1 tablespoon RED STAR® Quick∙Rise™ Yeast
1 ½ cups water 
1 cup soy milk
¼ cup honey
1 tablespoon finely chopped fresh cilantro leaves
½ cup mashed, ripe avocado 
1 ¼ cups canned crispy French-fried onions, divided
1 (3-ounce) package, about 1 cup, sun dried tomatoes, diced (not oil-packed)
2 teaspoons salt
1 teaspoon ground cumin 
1 ½ teaspoons chia seed, divided
2 ¼ - 2 ½ cups King Arthur® Unbleached Bread Flour
1 large egg
1 tablespoon water
Directions
In the bowl of a stand mixer fitted with paddle, stir together white whole wheat flour and yeast.  Heat water and soy milk to 120°F - 130°F; blend into flour until moistened. Beat at medium speed 3 minutes.
Switch to dough hook, and stir in honey, cilantro, avocado, ¾ cup onions, tomatoes, salt, cumin and 1 teaspoon chia seed. Gradually add enough bread flour to make a sticky batter.  Combine at low speed 3 minutes. 
Cover; let rise until doubled. Stir down batter with a wooden spoon. Divide batter between two greased 8 ½" x 4 ½" loaf pans.  
In a small bowl, beat together egg and water. Brush on loaves. Sprinkle ¼ cup onions and ¼ teaspoon chia seed on each loaf. Preheat oven to 375°F.
Cover; let rise until dough reaches top of pan. Bake loaves 40 - 45 minutes. To prevent over-browning, loosely cover bread with aluminum foil after 18 minutes. The bread is done when golden and a thermometer inserted into the center registers 210° - 215°F.  
Remove loaves from oven and after a few minutes, turn out onto a rack. Serve warm.      Refrigerate any leftovers. 
Yield: 2 loaves, 16 servings each.
Nutrition Information Per Serving (1 SLICE, 84g): 137 calories, 4 g protein, 24 g carbohydrates, 3 g dietary fiber, 3 g fat, 0.5 g saturated fat, 0g trans fat, 0mg cholesterol, 28 mcg folate, 170 mg sodium, 2mg vitamin C, 1mg iron, 16mg calcium.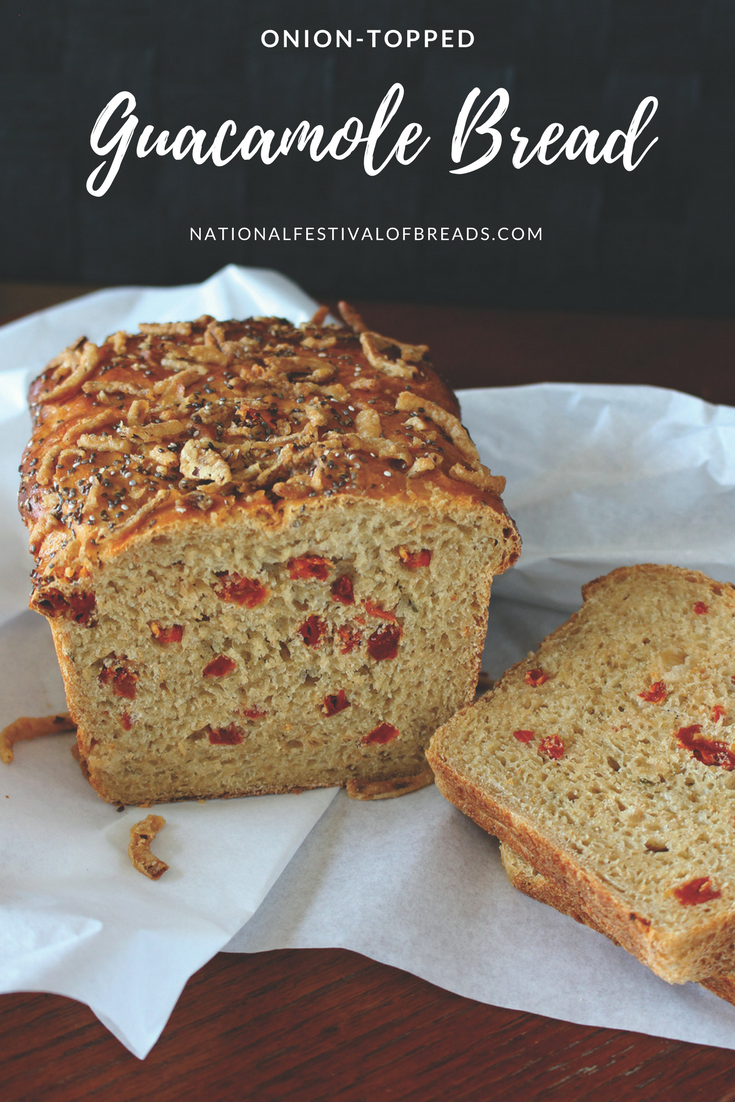 ---