No-Knead Apricot Pineapple Braids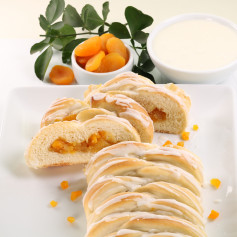 This is one the all-time favorite recipes in my collection that I have enjoyed making and serving for over forty years. You'll love the refreshing apricot and pineapple filling with a hint of brown sugar. This easy recipe will be a delicious showstopper bread at your next gathering.  — Cindy Falk, Kansas Wheat Nutrition Educator
Ingredients
Dough
2 (1/4 ounce) packages active dry yeast
½ cup warm water (110°F-115°F)
¾ cup whole milk (110°F-115°F)
½ cup granulated sugar
2 teaspoons salt
1 large egg, slightly beaten
4 ½- 4 ¾ cups bread flour, divided
½ cup (1 stick) unsalted butter or margarine
Apricot-Pineapple Filling
1 (6-ounce) package dried apricots, finely chopped
1 (8-ounce) can crushed pineapple, undrained
½ cup packed brown sugar
¾ cup water
Icing (Optional)
2 cups confectioners' sugar, sifted
2 tablespoons butter or margarine, melted
1 teaspoon almond extract or pure vanilla extract
4-5 tablespoons whole milk or half-and-half
Directions
In bowl of stand mixer fitted with paddle, dissolve yeast in water and wait 5 minutes for mixture to foam (proof).
Stir in milk, sugar, salt, egg, 2 cups flour and butter; beat 2 minutes on medium speed. Stir in enough of the remaining flour to make a stiff batter; beat 3 minutes.
Place dough in greased bowl or sealable bag. Refrigerate 2 hours or overnight.
In saucepan, combine filling ingredients; bring to a boil, stirring constantly. Cook until liquid is absorbed and filling is spreading consistency; cool.
To shape, remove dough from refrigerator; deflate dough. Divide into 2 equal pieces; cover and let rest 15 minutes. Roll one piece of dough into 15 x 8-inch rectangle. Place each rectangle on greased baking sheet.
Spread half of the filling down the center third of rectangle. Make cuts in dough along each side of filling 1 inch apart. Fold strips at an angle across filling, alternating from side-to-side.
 Repeat with remaining dough.  Cover, let rise until doubled. Near the end of the rise, preheat oven to 350°F.
Bake 23 to 25 minutes until golden, rotating pan halfway through baking. Cool 5 minutes on baking sheet before sliding to rack; let cool.  
For icing: In medium bowl, whisk ingredients until smooth, adding enough milk for desired consistency. Drizzle over braids.
Yield: 2 braids, 16 servings each.
NUTRITION INFORMATION PER SERVING (1 SLICE, 59g): 150 calories, 30 calories from fat, 4g total fat, 2g saturated fat, 0g trans fat, 15mg cholesterol, 150mg sodium, 25g carbohydrate, 1g dietary fiber, 7g sugars, 3g protein,  38mcg folate, 1mg vitamin C, 1mg iron.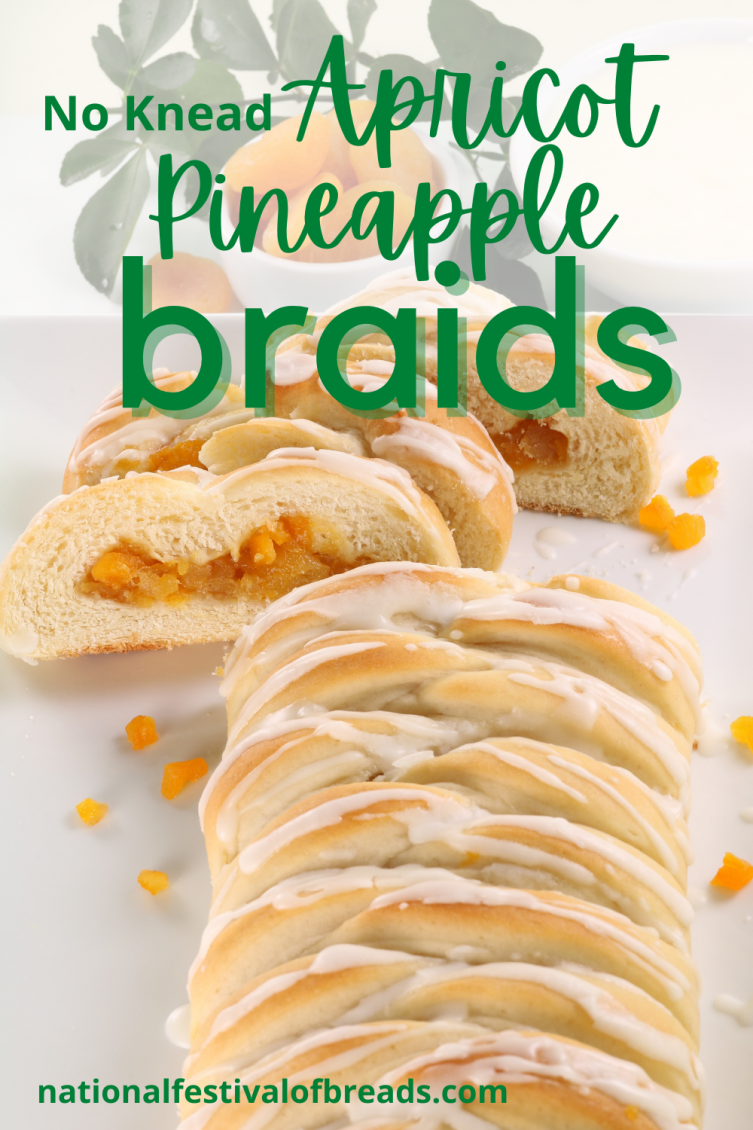 ---