Nacho Cheese White Whole Wheat Bread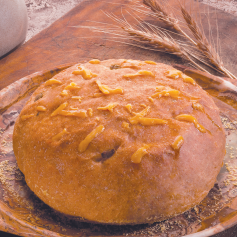 National Festival of Breads 2013 White Whole Wheat Award Winner
Alyssa Ellis, Rhinelander, WI
I looked in cookbooks for bread recipes that used cheese and thought I would like them. One recipe used cream of mushroom soup so I looked at condensed soups and thought the nacho cheese soup would be better. My aunt normally uses a bread machine whenever she makes bread. I on the other hand decided to do things a bit differently. Due to modern technology, people use bread machines. I wanted to bring back the art of making bread by kneading it, like they did years ago. My Grandma offered to help me. She and I bake together a lot. I melted shredded cheddar cheese over the bread. This is a good bread to eat with chili or as a snack.
Prep Time: 30 minutes
Bake Time: 25 minutes
Yield: 2 loaves, 16 slices each
Ingredients
1 cup King Arthur Unbleached All-Purpose Flour 
1/3 cup yellow corn meal, plus 2 tablespoons 
2 teaspoons freeze-dried snipped chives 
1 teaspoon salt 
½ teaspoon garlic powder 
2 (1/4 ounce) packages rapid rise yeast 
¾ cup very warm water (120° to 130°F) 
1 (10 ¾ ounce) can Fiesta Nacho Cheese soup 
¼ cup unsalted butter, softened 
1/3 cup coarsely chopped pimento stuffed green olives, drained* 
3 - 3 ¼ cups King Arthur White Whole Wheat Flour 
2 teaspoons unsalted melted butter, optional 
¼ cup finely shredded sharp Cheddar cheese, divided, optional 

*Reduced salt pimiento stuffed Manzanilla olives may be used. Variation: replace olives with ¼ cup coarsely chopped, drained, pickled jalapeño slices. 
Instructions
Spray 2 round 8 or 9-inch, 1 ½" to 2 ½" deep, glass casserole dishes or metal pans with nonstick cooking spray. Dust each pan with 1 tablespoon corn meal. 
In stand-mixer bowl, combine all-purpose flour, 1/3 cup corn meal, chives, salt, garlic powder, and undissolved yeast. Stir in very warm (120° to 130°F) water; beat 1 minute at low speed, scraping bowl. Add soup and ¼ cup butter; beat 3 minutes at medium speed. 
Remove bowl from mixer and with wooden spoon, stir in olives. Gradually stir in enough of the white whole wheat flour to make a soft batter. Knead dough by hand or with dough hook 8 to 10 minutes until smooth and elastic. 
Cover dough; let rest 10 minutes. Divide dough in half and shape each half into a round loaf; place in pans. Cover; let rise in warm, draft-free place until double in size, about 1 hour. 
Bake in preheated 375°F oven 23 to 25 minutes or until golden brown and done. If desired, carefully remove from pans; place loaves on a baking sheet with edges not touching. Brush bread tops with melted butter then sprinkle each loaf with 2 tablespoons cheese. Return to oven until cheese melts, about 2 minutes. Cut into wedges, serve warm. 
Variation: Substitute 1 can condensed Cheddar cheese soup. 
Nutrition Information
One slice provides approximately 172 calories; 6 g protein; 30 g carbohydrates; 5 g dietary fiber; 3 g fat (1 g saturated); 5 mg cholesterol; 8 mcg folate; 1 mg iron and 172 mg sodium. 
Additional Note: Alyssa earned the White Wheat Special Category Award, sponsored by Farmer Direct.
---