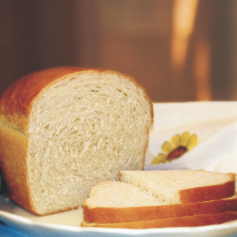 Prep Time: 45 minutes
Bake Time: 40 minutes
Yield: 16 slices per loaf
Ingredients
1 cake compressed yeast (2 1/2 teaspoons, or 1 package active dry yeast) 
1/2 cup lukewarm water (105- 115 degrees F) 
1/2 teaspoon granulated sugar 
1/2 cup shortening 
1/2 cup granulated sugar 
1 egg, beaten 
1 1/2 teaspoons salt 
2 cups milk, scalded and cooled to 105-115 degrees F 
8 cups sifted* flour (the less flour used the better the bread) 

*Sifting flour was common practice in Ida's day. Today, simply stir flour, spoon into measuring cup and level off. 
Instructions
Dissolve yeast in lukewarm water, stirring in the 1/2 teaspoon sugar. Let stand 45 minutes (5 minutes for active dry yeast). Cream shortening with 1/2 cup sugar; add egg, salt, cooled milk and yeast. 
Stir in flour a little at a time until dough is stiff enough to knead. Knead for 10 - 15 minutes until elastic. Place in greased bowl and let rise until double. Knead and let rise until double again. 
Divide and shape dough in 2 or 3 greased pans. Cover with clean, damp towel. When doubled again, bake in preheated 375 degrees F oven for 35-40 minutes.
Nutrition Information
Based on all-purpose flour, at 16 slices a loaf, 3 loaves a recipe, each slice has: 106 Kcal, 2 g protein, 18 g carbohydrate, 2 g fat, 6 mg cholesterol, 30 mg potassium, 70 mg sodium, 0.5 g fiber (TDF). 
Kansas Wheat Commission Test Kitchen Note: This recipe comes from President Dwight D. Eisenhower's mother, Ida.
Additional Notes
Ida's Note: For whole wheat bread, use just enough white flour to handle when kneading.
---