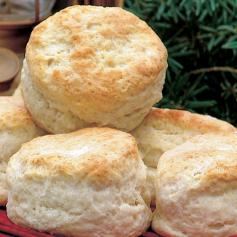 Prep Time: 35 minutes
Bake Time: 12 minutes
Yield: 12 2 ½-inch biscuits
Ingredients
3 cups all-purpose flour 
2 tablespoons granulated sugar 
4 ½ teaspoons baking powder 
¾ teaspoon cream of tartar 
¾ teaspoon salt 
¾ cup vegetable shortening 
1 beaten egg 
1 cup low-fat milk 
Instructions
Preheat oven to 450°F. 
Stir flour so it is not packed from being in container. Measure dry ingredients and level off. Sift flour with sugar, baking powder, cream of tartar, and salt into medium bowl. 
Cut in shortening, with pastry blender or 2 knives (used scissors-fashion), until mixture resembles coarse meal. 
Combine egg and milk, and add to flour mixture all at once. Stir with fork just long enough to make a soft dough that forms a ball. 
On lightly floured surface, knead lightly about ten times. Roll or pat dough to 1-inch thickness using as little flour as possible. Cut straight down into dough with a 2 ½-inch biscuit cutter, being careful not to twist cutter. 
Place 1-inch apart on ungreased cookie sheet. Bake 12 to 15 minutes. 
Nutrition Information
Per biscuit: 257 cal, 14 g fat, 19 mg chol, 557 mg sodium, 28 g carbo, 1 g fiber, 4 g pro, 50 mcg folate. 
Kansas Wheat Commission Test Kitchen Note
A simple recipe that can be prepared in short order, and they're a mile high!
---