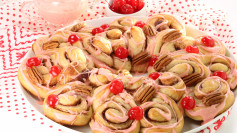 A tradition my mother started in the 1960s was baking Swedish Tea Rings for holiday gifts.  Her twist when shaping was placing every-other-slice to the center of the tea ring. This was one of my first 4-H demonstrations and I have been making the tea rings every since.  - Cindy Falk
Ingredients
Dough
1 cup unseasoned mashed potatoes 
1 cup hot potato water 
1 (1/4 ounce) package active dry yeast 
¼ cup warm water (110°F - 115°F) 
2/3 cup unsalted butter or vegetable shortening 
½ cup granulated sugar 
2 teaspoons salt 
3 large eggs, slightly beaten 
6 - 7 cups bread flour 
1 teaspoon lemon zest 
Filling
½ cup granulated sugar
4 teaspoons ground cinnamon
2 tablespoons unsalted butter, softened, divided 
Cherry Icing & Garnish
2 cups confectioners' sugar, sifted
2 tablespoons unsalted butter, softened
4-5 tablespoons maraschino cherry juice 
Maraschino cherries, halved 
Pecan halves  
Directions
In medium saucepan cook peeled potatoes until tender; drain and reserve 1 cup of the water. Mash potatoes.  

In measuring cup dissolve yeast in warm water and wait 5 minutes for mixture to foam (proof). 

In bowl of stand mixer fitted with paddle, combine butter, sugar, salt, potatoes, and potato water; cool to lukewarm.  

Add yeast, eggs, 2 cups flour and lemon zest; beat 2 minutes.  

Exchange paddle for dough hook. Gradually add enough remaining flour to make a soft dough. Knead 10 minutes, until smooth and elastic. Place dough in a greased bowl; turn to grease top. Let rise until doubled.  (Dough may be placed in a sealable bowl or bag and refrigerated 1 to 2 days.) 

Deflate dough and divide in half; cover let rest 10 minutes. For filling, in small bowl whisk together sugar and cinnamon. 

For one tea ring, use half of the dough. Roll into 22 x 10-inch rectangle. Brush with 1 tablespoon melted butter. Sprinkle with half the cinnamon-sugar mixture.  

Roll, beginning with long side. Seal long edge. Place sealed edge down on greased baking sheet, forming a circle; seal ends. Using scissors, make ¾-inch wide slices, cutting almost through dough. Turn slices on sides, placing every-other-slice to the center of the tea ring. Cover; let rise until doubled. 

Near the end of the rise, preheat oven to 350°F oven. Bake tea rings 23-25 minutes, or until lightly browned, rotating baking sheet halfway through baking.

For icing: In small bowl, whisk together confectioners' sugar, butter and cherry juice. When cool, decorate tea rings with icing, maraschino cherries and pecans. 
Yield: 2 tea rings, 16 servings each. 
Note: the dough recipe is wonderful for dinner rolls too.  
NUTRITION INFORMATION PER SERVING (1 SLICE WITH ICING AND GARNISH, 150g): 450 calories, 120 calories from fat, 13g total fat, 7g saturated fat, 0g trans fat, 65mg cholesterol, 360mg sodium, 76g carbohydrate, 2g dietary fiber, 32g sugars, 8g protein, 103mcg folate, 0mg vitamin C, 3mg iron.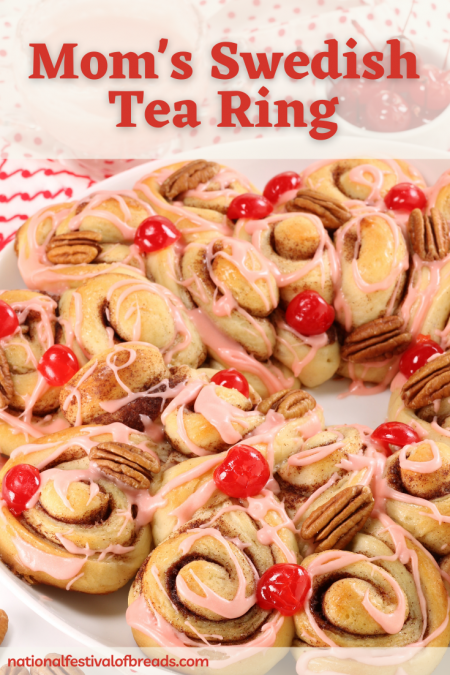 ---