Mediterranean-Herbed Heart Rolls
Patrice Hurd, Bemidji, Minnesota
~~~~~~ 2021 National Festival of Breads Adult Division ~~~~~
Honorable Mention: Savory Rolls Category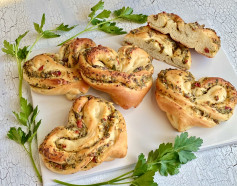 "With these heart-shaped rolls my feelings couldn't be clearer… baking is love from the heart."
Ingredients
Dough
3 - 3 ¼ cups King Arthur® Unbleached Bread Flour, divided
1 (¼ ounce) package RED STAR® Platinum Superior Baking Yeast®
2 tablespoons instant mashed potato flakes
3 tablespoons granulated sugar
1 teaspoon salt
1 cup whole milk (120°F - 130°F)
1 large egg, beaten
5 tablespoons unsalted butter, softened, divided use 
Filling
½ cup cream cheese, softened
1 cup loosely packed flat leaf parsley leaves
1 ½ teaspoons freshly minced garlic
1 tablespoon za'atar seasoning blend*
⅔ cup freshly grated Parmesan cheese, about 2 ounces
½ cup finely diced (⅛") jarred roasted red peppers, dried well on paper towels
Directions
In bowl of stand mixer fitted with paddle, combine 2 cups flour, yeast, potato flakes, sugar and salt. Add warm milk, egg and 3 tablespoons butter; blend on low speed 2 minutes. Gradually add enough of the additional flour to make a soft, moist dough. 
Switch to dough hook and knead 10 minutes. Place dough in greased bowl; cover and let rise in a warm place until doubled, about 1 hour.
While dough is rising, prepare filling. Place cream cheese in a medium bowl. Make sure it is very soft; microwave for a few seconds if necessary. Very finely mince the parsley and place over cream cheese, along with garlic, za'atar, Parmesan cheese and roasted red peppers; gently fold all together.
Line two 13" x 18" baking sheets with parchment. Deflate dough and divide into 12 equal pieces.
Roll one piece of dough into 6" x 5" rectangle. Spoon and spread 1 ½ tablespoons filling to within ½" of all edges. Beginning with 6" edge, roll up tightly and pinch seam to seal; place seam-side up and flatten slightly with hand. Fold one narrow end over to meet other narrow end and pinch ends together tightly to form a point. Use palm of hand to firmly press and flatten folded end to about 1 ½" across, forming a 3 ½" long narrow triangle. Use a large sharp knife or kitchen shears to cut through the long center of the triangle, leaving ½" of the pointed end attached/uncut. Place on parchment-lined baking sheet. Open cut outward, laying both sides flat, as if you were opening a book, to expose filling and form a heart shape. Re-pinch bottom point tightly. (For shaping illustrations, visit nationalfestivalofbreads.com)
Repeat, placing 6 rolls on each pan, well-spaced. Cover; let rise until puffy and almost doubled. Near the end of rise, preheat oven to 375°F.
Bake one baking sheet at a time, 16 - 18 minutes, or until internal temperature registers 195°F - 200°F. If necessary, shield rolls with foil during last 5 minutes to prevent over-browning. Melt remaining 2 tablespoons butter and lightly brush hot rolls; remove to rack and cool completely.
Yield: 12 rolls.
*Za'atar is a blend of savory dried herbs native to the Middle East. Za'atar spice may be purchased at upscale specialty grocery stores and online. You can also make your own version of za'atar.
NUTRITION INFORMATION PER SERVING (1 ROLL, 155 g): 460 calories, 110 calories from fat, 12g total fat, 7g saturated fat, 0g trans fat, 45mg cholesterol, 410mg sodium, 70g total carbohydrate, 3g dietary fiber, 5g sugars, 16g protein, 170mcg folate, 13mg vitamin C, 4mg iron.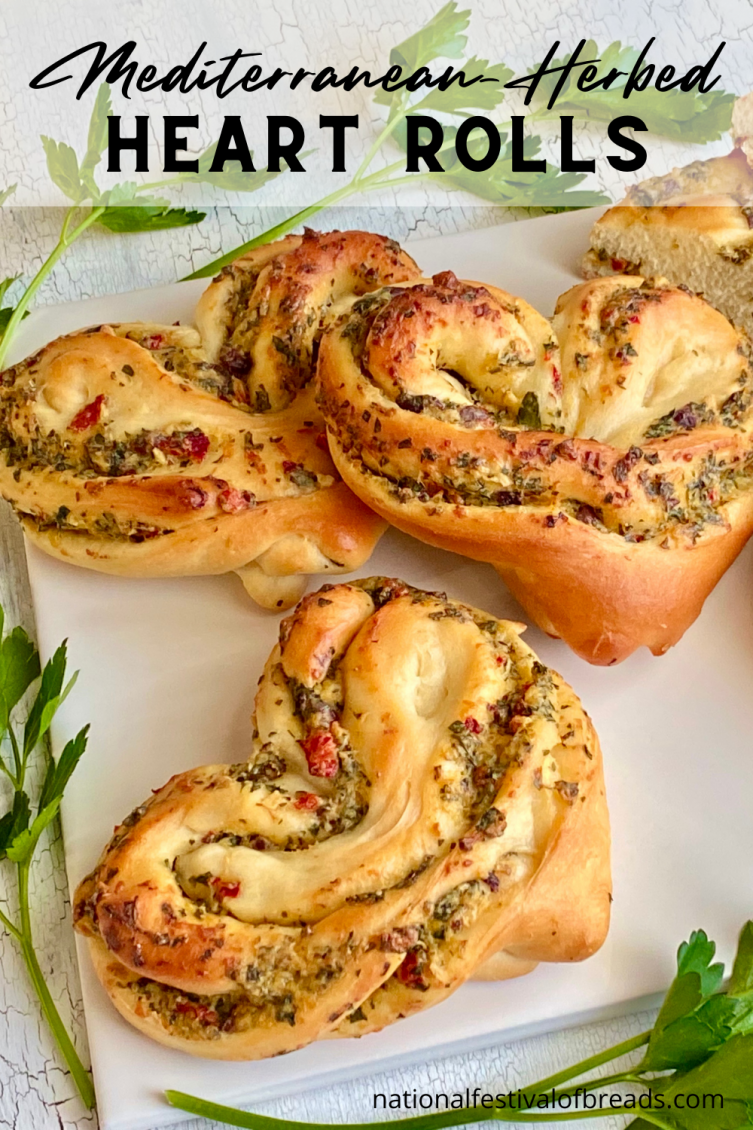 ---