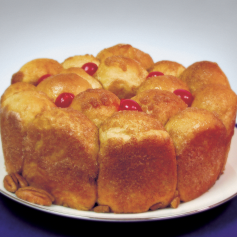 A signature bread of Kansas State University, Manhattan, Kansas. This popular recipe was printed in the Kansas Wheat Commission's 25th Anniversary Recipe book in 1982.
Ingredients
2 packages RED STAR® Active Dry Yeast
½ cup lukewarm water (110-115°F)
¾ cup lukewarm milk (95°F)
3 tablespoons granulated sugar
3 tablespoons vegetable shortening
1 ½ teaspoons salt
1 beaten egg
3 ¼ - 3 ½ cups bread flour
¼ cup pecan pieces
¾ cup granulated sugar
1 teaspoon cinnamon
3 - 4 tablespoons butter or margarine, melted
5 - 7 whole maraschino cherries
Whole pecans (optional)
Instructions
In mixing bowl, dissolve yeast in water. Add milk, sugar, shortening, salt, and egg. Stir in 2 cups bread flour and beat 2 minutes. Gradually add enough of the remaining flour to form a soft dough.
Knead until smooth and elastic, 10 to 12 minutes. Cover; let rise until double. Punch down dough; cover, let rest 10 minutes.
Grease with shortening or coat with nonstick cooking spray the bottom and sides of a tube cake pan. Sprinkle pecan pieces in bottom of pan. Mix together ¾ cup sugar and cinnamon. Divide dough into 18 equal pieces. Form each piece into a uniform roll. Lightly coat each roll with melted butter or margarine and roll in cinnamon-sugar mixture. Arrange twelve rolls on the outside and six rolls in the middle of the pan. Cover; let rise until double.
Bake in preheated 350°F oven 40 minutes or until done. Tent top with foil if necessary to prevent over-browning.
Let cool in pan 30 minutes before removing. Remove from pan placing upright. Place maraschino cherries on top in the space between rolls and decorate with whole pecan pieces.
Makes 18 servings
Nutrition information per serving (one roll): 191 cal, 6 g fat, 18 mg chol, 204 mg sodium, 30 g carbo, 1 g fiber, 4 g pro, 58 mcg folate.
---