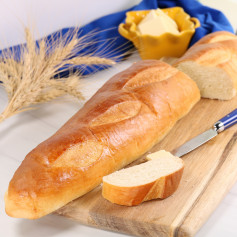 This recipe using basic ingredients is perfect for first-time bread bakers. It is a super simple recipe from the 1976 Kansas Wheat Commission recipe booklet Years of Better Baking  1776-1976. Enjoy in a breadbasket at your next meal or use it as a base for a sandwich.
Makes 1 large loaf.
INGREDIENTS
1 (1/4 ounce) package active dry yeast
½ cup warm water (110°F-115°F)
½ cup milk whole milk (110°F-115°F) 
2 tablespoons granulated sugar
2 tablespoons unsalted butter or vegetable shortening
1 teaspoon salt
2 ¼- 2 ½ cups bread or all-purpose flour, divided
Egg Wash
1 egg white
2 tablespoons cold water
DIRECTIONS
In bowl of stand mixer fitted with paddle, dissolve yeast in warm water; let proof 5 - 10 minutes.  Stir in milk, sugar, butter, salt and 1 cup flour. Beat 3 minutes. 
Add enough remaining flour until soft dough forms. Exchange paddle for dough hook. Knead dough until smooth and satiny, about 8 - 10 minutes.
Place dough in greased bowl, turning to grease entire surface.  Cover; let rise until doubled, about 1 hour.  
Deflate dough; cover let rest 10 minutes. Roll or pat dough into 18" x 6" rectangle. Roll dough starting on long side, sealing with each roll, as for a jelly roll or cinnamon rolls; taper ends.  Place seam-side down on greased or parchment-lined baking sheet. 
Cover, let rise until nearly doubled, about 30 - 40 minutes. Near the end of the rise, preheat oven to 400°F.
Make slashes every 2 inches across top surface with a sharp knife or lame.  In small bowl beat together egg white and water; brush on loaf.  
 Bake 25 - 30 minutes, until golden and internal temperature is 200°F. Cool on rack before slicing.  
Note: The recipe can easily be doubled to make two loaves of bread.  
Yield: 1 large loaf, 22 servings.
NUTRITION INFORMATION PER SERVING (1 SLICE, 32g): 70 calories, 15 calories from fat, 1.5g total fat, 1g saturated fat, 0g trans fat, 5mg cholesterol, 115mg sodium, 13g carbohydrate, 0g dietary fiber, 1g sugars, 2g protein, 29mcg folate, 0mg vitamin C, 1mg iron.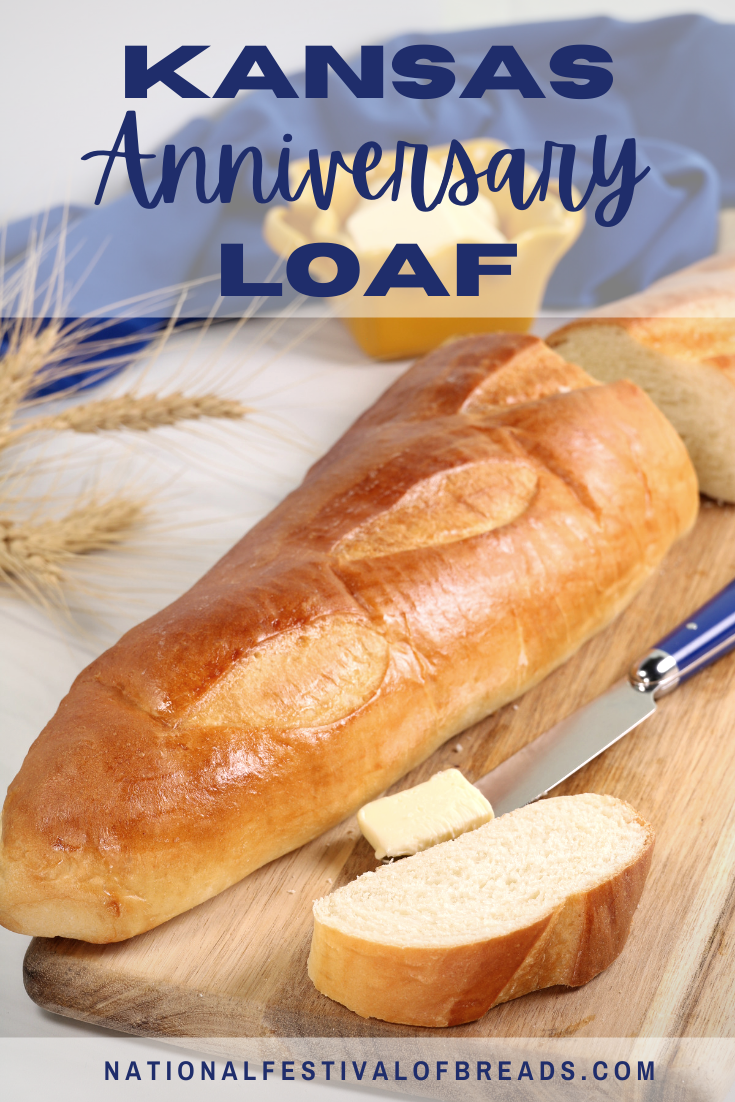 ---