Italian Parmesan Casserole Bread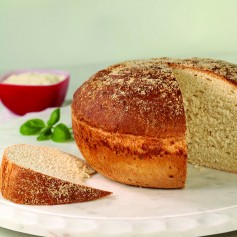 A flavorful recipe that was a winner in the 1994 Kansas Festival of Breads baking competition. You will receive a big endorsement from friends, family and co-workers.
Ingredients
1 (¼ ounce) package active dry yeast
1 cup warm water (110°F - 115°F)
3 ¼ - 3 ½ cups bread flour, divided 
¼ cup unsalted butter, softened
1 large egg
2 tablespoons granulated sugar
1 teaspoon salt
2 teaspoons dried minced onion
1 teaspoon Italian seasoning
1 teaspoon garlic powder
½ cup grated Parmesan cheese, plus ½ tablespoon*
½ tablespoon unsalted melted butter
Directions
In bowl of stand mixer fitted with paddle, dissolve yeast in water; let proof 5 minutes.  Add 1 cup flour, butter, egg, sugar, salt, onion, Italian seasoning and garlic powder. Beat on low speed 1 minute; increase speed to medium and beat 2 minutes. 
Stir in ½ cup cheese. Switch to dough hook and gradually add enough flour to form a soft dough that pulls away from sides of bowl. Knead with dough hook 8 minutes. 
Form dough in a round loaf and place into a greased 1 ½ - quart round baking dish. Cover with oiled plastic wrap and towel; let rise until doubled. Near the end of the rise, preheat oven to 350°F.
Brush top of loaf with melted butter and sprinkle with remaining cheese. Bake 35 - 40 minutes or until golden and internal temperature is 195°F - 200°F. If top browns too quickly, cover loosely with aluminum foil to prevent over-browning. The bread sounds hollow when lightly tapped on the bottom. 
Remove from oven and cool in baking dish 10 minutes before removing bread to rack. To serve, cut in wedges or slices. 
Yield: 1 loaf, 24 servings. 
*Recipe was tested with Kraft 100% Grated Parmesan Cheese in the plastic shaker container.
NUTRITION INFORMATION PER SERVING (1 SLICE, 38g): 110 calories, 30 calories from fat, 4g total fat, 2g saturated fat, 0g trans fat, 15mg cholesterol, 140mg sodium, 15g total carbohydrate, 1g dietary fiber, 1g sugars, 3g protein, 35mcg folate, 0mg vitamin C, 1mg iron.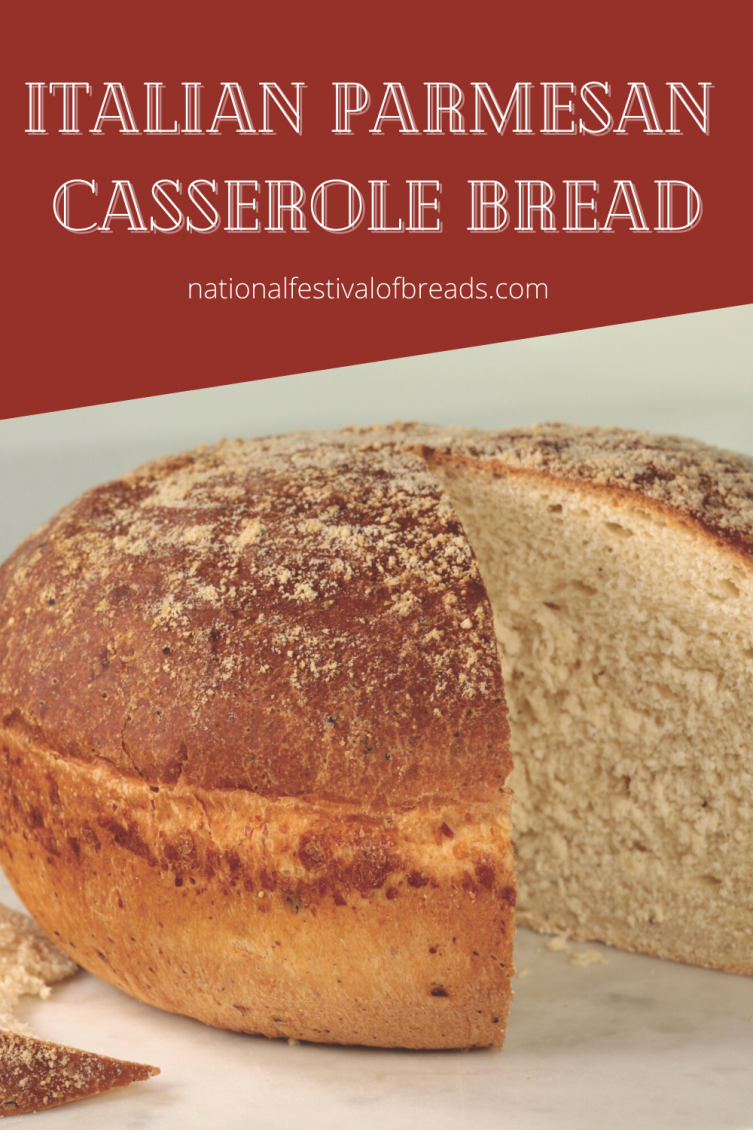 ---