Italian Kalamata-Gorgonzola Knots
Elke Roby, Lincoln, Nebraska
Ingredients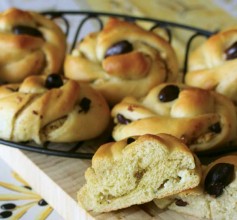 ¼ cup warm water (110°F - 115°F) 
¼ cup granulated sugar, divided
2 (¼ ounce) packages RED STAR® Active Dry Yeast
1 cup milk (110°F - 115°F)
2 large eggs, lightly beaten
5 - 5 ¼ cups King Arthur® Unbleached All-Purpose Flour, divided
½ cup olive oil
1 teaspoon salt
¼ cup basil pesto 
½ cup coarsely chopped pitted Kalamata olives 
4 ounces Gorgonzola cheese, finely crumbled
16 whole pitted Kalamata olives
KWC Test Kitchen Note:    The recipe uses 1 (6-ounce) jar of Kalamata olives
Directions
Rinse and drain olives. In bowl of a stand mixer fitted with paddle, combine warm water, 1 teaspoon sugar and yeast. Wait 5 - 10 minutes for it to foam (proof). 
Stir in the milk, remaining sugar, eggs, 2 cups flour, oil and salt; mix 2 minutes. Gradually add enough remaining flour to make a soft dough. Switch to dough hook and knead 10 minutes. Place in oiled bowl, turning to coat. Cover; let rise until doubled. 
Line 2 baking sheets with parchment. Turn dough onto a large work surface and roll into a 24" x 16" rectangle. Spread pesto lengthwise onto half (24" x 8") the dough. Top pesto with chopped olives and cheese.
Fold plain side over filling. Lightly press down dough and seal edge. Starting on 24" edge, cut into 16, 1 ½" strips.
Hold one strip on both ends, twist 2 to 3 times; take one end and fold it over the other then bring it back up through the center. Place on prepared baking sheets; tuck whole olive in each knot. 
Cover with plastic wrap. Let rise until almost doubled. Near the end of the rise, preheat oven to 375°F.
Bake 15 - 18 minutes or until golden. Serve warm. Refrigerate or freeze for longer storage. 
Yield: 16 large knots.
Nutrition Information Per Serving (1 KNOT, 96g): 310 calories, 9g protein, 35g carbohydrates, 1g dietary fiber, 15g fat, 3g saturated fat, 0g trans fat, 30mg cholesterol, 77mcg folate, 420mg sodium, 0mg vitamin C, 2mg iron, 62mg calcium.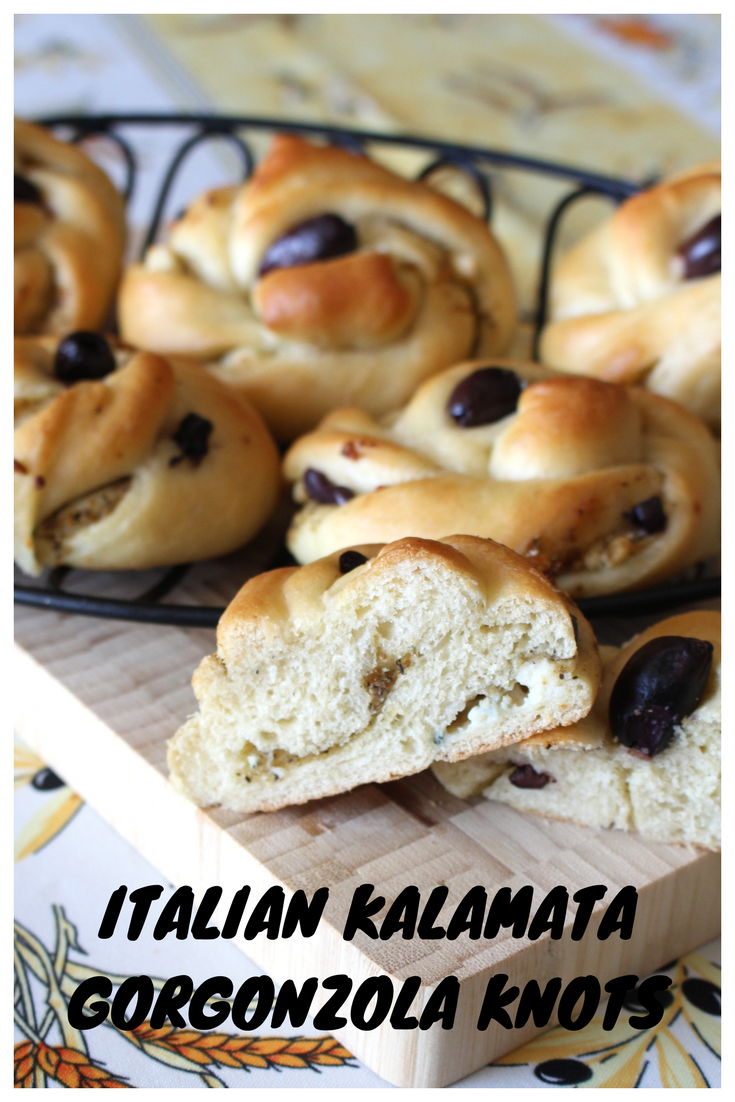 ---