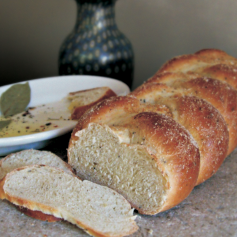 Youth Division Champion in the 2004 Kansas Festival of Breads was Jason Smelser, Oskaloosa, Kansas. He entered this winning recipe.
Ingredients
¾ cup lukewarm water (110-115°F)
1 ¾ teaspoons RED STAR® Active Dry Yeast 
2 tablespoons granulated sugar 
1 beaten egg
3 - 3 ¼ cups bread flour
½ cup low-fat small curd cottage cheese
½ cup grated dried three cheeses*
1 tablespoon butter
1 teaspoon dried Italian seasoning
½ teaspoon dried basil leaves
½ teaspoon garlic powder
1 teaspoon dried minced onion
1 ½ teaspoons salt 
*Parmesan, Romano and Asiago Cheeses or Grated Parmesan Romano Cheese
Topping
1 beaten egg 
1 - 2 tablespoons dried grated Parmesan cheese
Instructions
1. In mixer bowl, combine water, yeast, and sugar. Add egg, 1 cup flour, cottage cheese, dried cheeses, and butter; beat 2 minutes. Combine seasonings and add to mixture. Gradually add enough of the remaining flour to make a soft dough.
2. Knead dough 10 to 12 minutes, or until soft and elastic. Place dough in a greased bowl; turn to grease top. Cover with a warm, damp cloth. Let rise until double.
3. Punch dough down. Divide into thirds and shape into balls; cover. Let rest 10 minutes. Roll each piece into a 20-inch rope. Braid loosely and pinch ends of ropes together and tuck the sealed portion under the braid. Place on greased baking sheet. Spray loaf lightly with water; cover with plastic wrap. Let rise until double. Brush braid with beaten egg; sprinkle with Parmesan cheese.
4. Bake in preheated 350°F oven 28 to 30 minutes, turning baking sheet several times. Cover with foil last 10 minutes to prevent over-browning. Bake until golden and done. Remove from pan and cool on rack. 
Makes 1 large braid, 24 slices.
Nutrition information per serving (one slice): 82 cal, 2 g fat, 23 mg chol, 216 mg sodium, 12 g carbo, .5 g fiber, 4 g pro, 29 mcg folate.
---