Michele Kusma, Columbus, Ohio
~~~~~~ 2021 National Festival of Breads Adult Division ~~~~~
Honorable Mention: Traditional Breads Category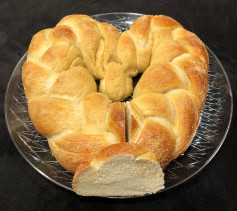 "This is a challah made with honey for my honey and shaped like a heart for Valentine's Day."
Ingredients
Dough
1 cup warm water (110°F - 115°F)
1 tablespoon RED STAR® Quick-Rise™ Yeast
¼ teaspoon granulated sugar
⅓ cup honey
2 large eggs
½ cup vegetable oil
2 teaspoons salt
4 ¼ - 4 ½ cups KING ARTHUR® Unbleached Bread Flour
Topping
1 large egg 
2 - 3 tablespoons honey powder*
Directions
In bowl of stand mixer fitted with paddle attachment, combine warm water, yeast and sugar; let proof 5 - 10 minutes.
Mix in honey, eggs, oil and salt. Gradually add enough flour to form a soft dough.
Exchange paddle for dough hook. Knead on low speed until dough begins to form a ball, about 1 minute. Knead on medium-low speed 5 - 8 minutes or until the dough is smooth and elastic. Place dough in greased bowl and turn to coat. Cover; let rise until doubled, 60 - 90 minutes.
Line a large baking sheet, 12" x 17" or larger, with parchment paper. Deflate dough; divide into 3 equal pieces, using a scale. Roll each piece into a uniform 30" rope, tapering the ends. 
Pinch ends together at the top. Shape into a three-strand braid. Pinch the ends of the strands together at the bottom. Bring the two tapered ends of the braid together, and pinch to form a heart shape. Place on prepared baking sheet. 
Cover; place in a warm, draft-free area until doubled and puffy, about 45 minutes. Preheat oven to 350°F. 
In a small bowl, beat the egg and lightly brush over the dough, covering the entire surface. Generously sprinkle on honey powder.
Bake 25 - 30 minutes. If necessary to prevent over-browning, loosely cover bread with aluminum foil during the last 5 - 10 minutes. Bread is done when an instant-read thermometer inserted in the bread registers 195°F - 200°F. Cool on wire rack.
Yield: 1 loaf, 18 servings.
*Honey powder may be found in specialty grocery stores and online.
NUTRITION INFORMATION PER SERVING (1 SLICE, 70g): 220 calories, 60 calories from fat, 7g total fat, 1g saturated fat, 0g trans fat, 20mg cholesterol, 270mg sodium, 33g total carbohydrate, 1g dietary fiber, 8g sugars, 5g protein, 68mcg folate, 2mg vitamin C, 2mg iron.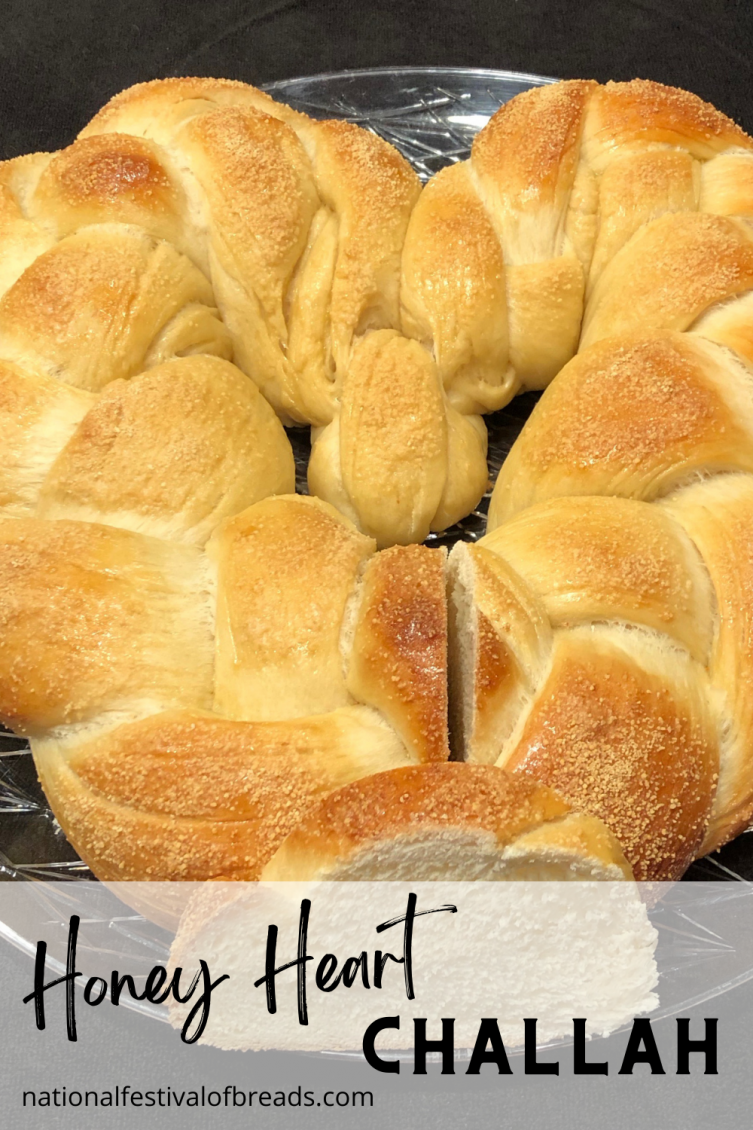 ---