Herbed Bocconcini Rosemary Rolls
Mary Hawkes, Prescott, Arizona
~~~~~~ 2021 National Festival of Breads Adult Division ~~~~~
Honorable Mention: Savory Rolls Category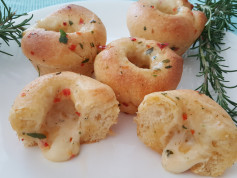 "Who doesn't love a hot roll straight from the oven with creamy, gooey, warm cheese?"
Ingredients
Dough
⅔ cup whole milk (110°F - 115°F)
2 teaspoons granulated sugar
1 (¼ ounce) package RED STAR® Active Dry Yeast
1 large egg, room temperature
¼ cup extra-virgin olive oil, plus 1 teaspoon, divided
2 - 2 ¼ cups KING ARTHUR® Unbleached Bread Flour, divided 
3 tablespoons yellow cornmeal
1 ¼ teaspoons salt
¾ teaspoon finely chopped fresh rosemary leaves or ¼ teaspoon dry rosemary
12 marinated bocconcini (fresh mozzarella balls) in herbs and oil*
2 tablespoons bocconcini oil with herbs, divided 
Directions
In the bowl of a stand mixer fitted with paddle, combine milk, sugar and yeast. Wait 5 - 10 minutes for mixture to foam. 
Beating on low speed, mix in egg and ¼ cup olive oil. Stir in 1 cup flour, cornmeal, salt and rosemary. Beat on low speed 2 minutes. Gradually stir in enough of the remaining flour to make a soft dough. Beat on low speed to combine; scrape sides and bottom to incorporate dry ingredients.
Exchange paddle for dough hook and knead dough on low speed 6 - 8 minutes or until dough is smooth. Remove dough from mixer bowl and shape into a ball.
Grease a large bowl with 1 teaspoon olive oil. Place dough in greased bowl; turn to coat all sides with olive oil. Cover and allow to rise until doubled, about 60 minutes. 
Gently deflate the dough and divide into 12 equal pieces. Use a scale to weigh the dough to get equal rolls. Shape dough into smooth, round balls. 
Spray a standard size muffin pan (12 muffin cups) with nonstick cooking spray. Place ¼ teaspoon herbed oil from the marinated bocconcini in the bottom of each muffin cup. Place a ball of dough into each cup. Place one drained bocconcini in center of each roll. Gently press the bocconcini down until it touches the bottom of the muffin cup. 
Cover; let rise until nearly doubled, about 60 minutes. While rolls are rising, preheat oven to 350°F. Gently press each bocconcini down ½" into dough; the cheese will still be visible. In oven, place muffin pan on piece of aluminum foil to catch any drips of melted cheese. Bake 15 - 18 minutes or until lightly browned and cheese is bubbling. 
Remove rolls from oven and brush tops with reserved bocconcini oil. Remove rolls to serving plate and serve immediately. Cover and store extra rolls in the refrigerator. 

Yield: 12 rolls.
*Note from Mary: I use Trader Joe's marinated fresh mozzarella balls or BelGioioso®  bocconcini from the supermarket. They are also delicious in a salad, omelet, or grilled cheese sandwich.
Test Kitchen Tip: Different brands of bocconcini may look, taste and melt differently. Serve rolls with warm marinara sauce for dipping.
NUTRITION INFORMATION PER SERVING (1 ROLL, 72 g): 230 calories, 110 calories from fat, 13g total fat, 4g saturated fat, 0g trans fat, 30mg cholesterol, 270mg sodium, 22g total carbohydrate, 1g dietary fiber, 1g sugars, 7g protein, 63mcg folate, 0mg vitamin C, 1mg iron.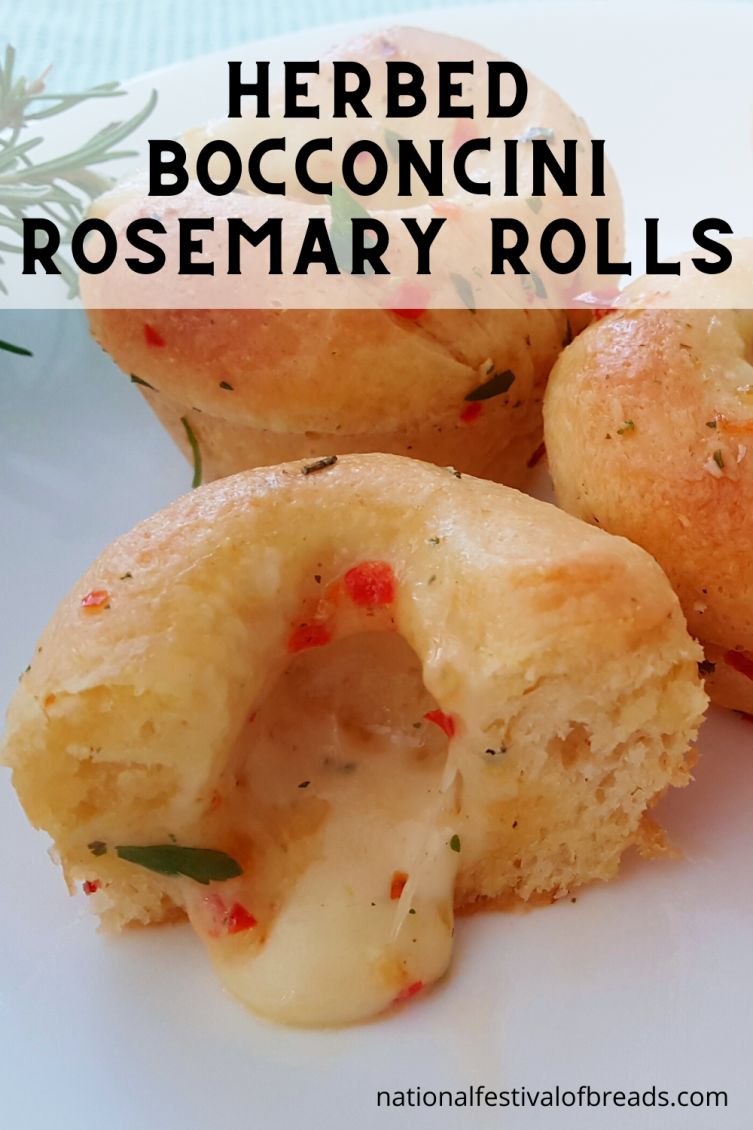 ---