Healthy and Hearty 3-Seed Bread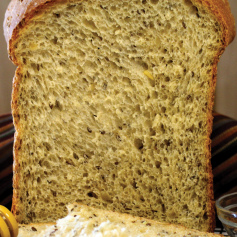 Yield: Makes 1 loaf, 18 slices.
Ingredients
Makes 2-pound bread machine recipe 

2 cups bread flour 
1 cup whole wheat flour 
1½ teaspoons salt 
1 tablespoon vital wheat gluten 
2 tablespoons dry milk powder 
4 tablespoons whole flaxseed 
3 tablespoons raw/hulled sunflower seeds 
2 tablespoons chia seed or poppy seed 
2 tablespoons olive oil 
2 tablespoons honey or agave nectar 
1½ cups water (80°F) 
2 teaspoons active dry yeast 
Instructions
Add ingredients to bread machine in the order suggested by manufacturer. Select Basic/white bread cycle; light or medium crust setting. Timed-bake feature can be used. 
Check the dough after 5 minutes. Dough should form a soft ball around the kneading blade. If dough is too wet, add 1 tablespoon flour at a time. If dough is too dry, add 1 tablespoon water at a time until dough forms a soft ball around the kneading blade. 
When cycle is done, remove bread from machine and pan; let cool on wire rack.
Nutrition Information
One slice provides approximately: 120 calories, 4 g protein, 20 g carbohydrates, 2 g dietary fiber, 3 g fat (0 g saturated), 0 mg cholesterol, 33 mcg folate, 1 mg iron and 200 mg sodium.
---